Improve Conference Calls and Online Meetings with These Simple Solutions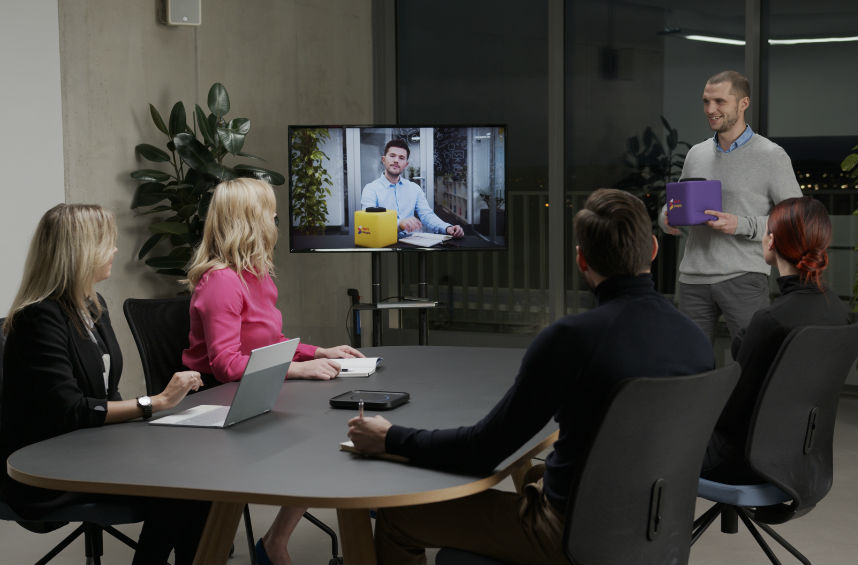 Published on: Feb 13, 2017
Conference calls can be a pain. Sometimes they're too long. Other times there's so much white noise and intermittent sound that key points are lost. But, with the right audio conferencing solution, you will learn how to do a conference call that is easy and stress-free.
It used to be that employees had to commute to one office every day, no matter the weather, on good days and sick days, and sometimes even on holidays. But, as the world continues to adopt the latest technological advances, traditional workdays are looking much different.
With high-speed Internet and a computer, modern workers have access to colleagues and company networks anywhere in the world. With VoIP, remote members can schedule a Skype video conference or use applications like Google Hangout and FaceTime. And, if several colleagues need to contact each other, they can quickly schedule a Lync meeting.
While the above-referenced solutions are great for small meetings, they're inefficient for larger conference calls where dozens of employees need to connect. How to make a conference call, then?
With audio conferencing solutions, that's how. If you've never used one before and are unsure how to do a conference call, don't worry. We've got you covered. In the following paragraphs, we will teach you how conference systems work and how to make a conference call that is efficient and easy to manage.
How Audio Conferencing Systems Work
A complete audio conferencing solution is a compilation of microphones and loudspeakers, which are connected to a central control unit. Think of it as the conference system's mainframe. This component also includes a mixer, which combines audio signals for crisp, intelligible sound.
How do these pieces fit together to enable you to make conference calls? With a connectivity management unit. Connected to the control unit, the connectivity management unit adds USB and headset audio, and even processes computer and telephone audio. Without this unit, you wouldn't be able to make conference calls from computers, landlines or mobile phones.
Now that you have a basic idea of what a conference system looks like and how it works, it's time to discuss microphone options.
Whether you have a small or large team, you can modify any audio conferencing system with a microphone that suits your needs. Most solutions come with a range of wireless and wired tabletop microphones. Your choices here include Omni-directional mics, which pick up sound from all directions, wearable, gooseneck, and directional microphones that pick up sound from a particular direction.
A great system that is easy to set up and offers plug and play options is Sennheiser. If you are looking for a comprehensive system that can accommodate several microphones in the same room, Revolabs has a myriad of choices.
Once you've selected the right audio conferencing system for your needs, it's time to learn how to make a conference call, which, thanks to easy installation and plug and play features, is hassle free.
How to Make a Conference Call
As soon as your microphones, speakers, and combox are connected to the central control unit, all you have to do is connect your computer via USB to the combox, open the app or website and call. That's it!
How to make a conference call from a mobile phone or tablet? Just like your computer, use a jack plug to connect your device to the combox.
Conference systems enable you to conduct meetings from any office and reach people thousands of miles away while ensuring high-quality audio. And, while they are easy to set up and offer flexible meeting options, they do have drawbacks.
Why You Need to Complement Your Audio Conferencing Solution
For one, audio conferencing solutions are expensive. Systems can run into thousands of dollars, with some options costing close to $10,000. That could be a substantial expense for a small business or startup.
The other downside is the number of microphones needed to ensure active participation from all colleagues. For instance, if you're conducting a large conference call with tabletop microphones, you'll need to set up at least one mic for every two attendees.
And, if your budget is tight, then having too few microphones will not only make the meeting more inefficient, but it will also deter people from participating. The reason being that passing around a microphone can take a while and detract from valuable discussions.
That's why it's important to complement conference systems with other communication tools. Everyone has something important to say. So, by enhancing your audio solution, you'll ensure more people participate in the conversation and gain more valuable insights.
How Catchbox Can Help
One way to get everyone talking is to integrate Catchbox. Even for a boardroom with twenty attendees, all you need to do is throw the mic to bring everyone into the conversation. No need to spend thousands of dollars on extra mics.
Plus, with Catchbox you can add activities like brainstorming sessions and icebreakers to your meetings. Incorporating interactive activities will create a more relaxed environment that empowers participants to share ideas.
Because the more sharing that goes on, the more invested everyone will be in the discussion. So, if you want your colleagues to take away valuable information, then you should encourage participation.
In Conclusion
Setting up audio conferencing solutions is more accessible than ever. With numerous options to choose from, you'll find the right system no matter your needs. And, with tools like Catchbox, which can easily integrate into any solution via a sound system or mixer, you can amp up the energy to create valuable discussions.
If you know how to make conference calls and have solutions you'd like to share, please add them in the comments below.
If you know anyone that might benefit from integrating audio conferencing solutions to their business, then share this post on Facebook and Twitter.