Meeting Room Wireless Microphone – The Practical Alternative for Corporate Meetings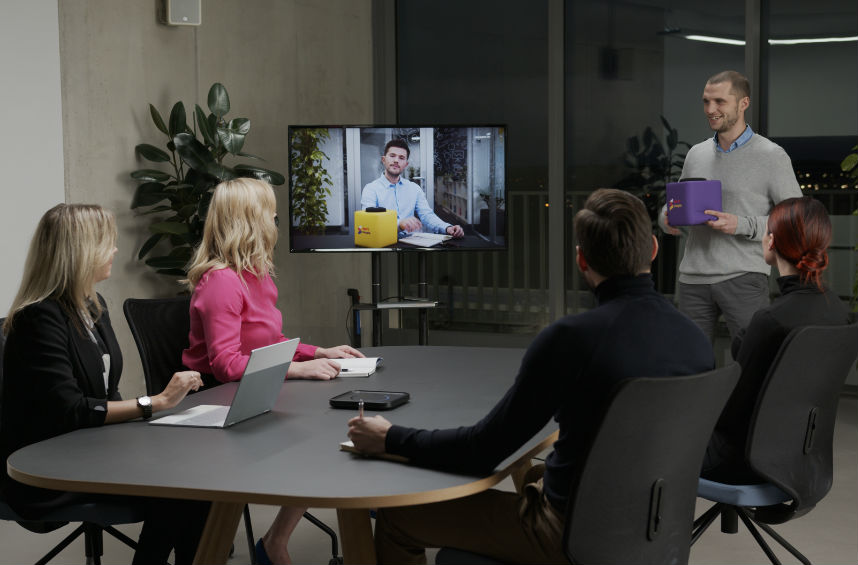 The Right Meeting Room Wireless Microphone Can Make or Break Your Meetings
Published on: Sep 13, 2016
Are you tired of looking at complicated meeting room wireless microphone systems to make your meetings more effective and engaging? This article covers the hottest concerns when it comes to meeting leaders and in-house conference room microphones. Even better, we'll offer you a very refreshing and effective solution to your problem.
The Typical Meeting Room Dilemma
If you work at a company that regularly organizes meetings in a conference room, chances are you've experienced staff falling asleep, not paying attention, or simply being bored.
A common problem in any given meeting is that it quickly turns into a shouting contest, especially if the opposing parties are very passionate about a certain issue. That's when you have to step in as the meeting moderator and give speaking turns. What if that could be solved without your intervention? What if the solution would be the right conference room microphone?
Expensive Audio Conferencing Equipment that Doesn't Work
On the other hand, maybe you've tried to integrate a variety of conference microphone systems to your meeting rooms. After searching the internet, you have probably been introduced to conference room sound systems that cost close to $10,000. Yet you are still looking for a more innovative answer to your problem.
3 Problems with Normal Meeting Room Mics
1. One Meeting Microphone To Rule Them All
Let's face it, one conference microphone per meeting room is just not enough, especially if it's a larger meeting. You either get several microphones spread out through the room, or you pass around the only mic you have. The first one is expensive, the latter is simply slow.
2. Great Pickup Range is Not What You Think It Is
Even if you get a meeting room wireless microphone with "great pick-up range", you still have to understand that the microphone will not pick up the person speaking the same way each time – after all, microphones cannot detect who is speaking, they simply take in the sound. The result will show people asking you to repeat what has been said. Many times.
You have to directly speak into the microphone – which essentially means that you either have to have a static point for the mic, or you have to lean in to talk. Whether you have a normal microphone or a wireless conference microphone, it's still a huge issue.
3. People Like to Move, Your Mic Doesn't.
You have to remain in one place when talking into a conference mic – most people when they talk like to use gestures or move around. That kind of dynamic is impossible with a standard mic, and can lead to the sound dropping off and a lot of "could you please repeat that" questions. In addition, it makes having multiple people speak virtually impossible.
Getting the Right Meeting Room Wireless Microphone System
As mentioned before, acquiring the wrong conference room microphone system will hurt the overall flow of your meeting, and hinder the ideation process. Next we will introduce a different kind of wireless conference microphone that will fit your needs. Whether you are holding meetings with less than 10 persons, or bigger meetings with, say, 50 persons, this product will fit right in.
So Here's the Catch – Throw a Microphone Instead
We came up with the world's first throwable microphone to make events & meetings engaging.
Catchbox Lite is a complete wireless meeting room wireless microphone system that works globally without a license. The device will not interfere with other wireless mics and does not require active management from the user. Simply turn it on, it's that simple. It's the perfect wireless conference microphone.
1. Plug and Play
2. Instant usability
3. Perfect for smaller meetings
For larger, more demanding events (100+ persons), see Catchbox Plus.
So How Does the Catchbox Work?
An external wireless conference microphone, must be a hassle to setup, right? Not with Catchbox. Once you've plugged the device into a mixer, or directly into a PA system, you simply turn both the receiver and the microphone on. It's simple as that, and now you have a ready, flying microphone for your meetings.
If you have a mixer, you can use this as a conference call microphone – remote staff will be able to hear the discussion within the conference room.
All you really need is a working sound system – simply plug the microphone in and you're good to go. If you have a mixer in the meeting room, you simply plug it in there.
Portable & Universal Meeting Room Wireless Microphone
Catchbox Lite is a full wireless plug and play system – simply hook the device up to your sound system or PA, and you're ready to go. You can even bring your throwable mic along with you to meetings since it does not have to be integrated into any given meeting room. In addition, the device works in parallel with your existing microphone systems as it is an add-on to your meeting setup.
If you're still in the process of building up your conference & meeting room setup, don't worry. The device can be plugged into any existing system that supports a Stereo Jack (Think Guitar cables) plug. Alternatively, you can convert the plug into a 3.5mm Jack.
It's super easy to setup – take a look!
Why You Should Use Catchbox for Meeting Rooms
1. Increases Questions
Due to it's fun and lighthearted nature, it is a great tool for breaking the ice, and relaxing the mood. After all, staff are more willing to share ideas in a meeting when they feel relaxed. The action of throwing and catching takes their mind off of the fear of contributing. This conference room microphone gives extra energy to your meeting.
2. Fun, But Not Too Fun.
While the nature of the product is to make meetings more fun, it doesn't turn the meeting into a total game. Catchbox is trusted by international businesses and even political organizations to engage their meeting audiences. Notable clients include Google, Facebook & Uber.
3. Customize Your Meeting Microphone
In addition to its functionality, the outer cover is fully customizable which allows you to match your corporate brand with colours and graphic. This way Catchbox is not just an additional tool, but becomes part of your brand. You can customize the color, and all sides of the cube. Customized products are currently used by notable clients such as Facebook, Google & Uber.
How Would I Use it in My Meetings?
1. Use it As an Icebreaker
In many cases, getting the ball rolling on a meeting is the hardest part. People are either nervous or simply not warmed up for meeting interaction. Traditional meeting room wireless microphones can be intimidating. The fact that you are speaking into a static microphone, even if it's a wireless setup often gives meeting participants the feeling they are being interviewed. The Catchbox, on the other hand, is the fun icebreaker that loses the tension in the room. It's the perfect conference room microphone.
2. Use it As a Brainstorming Tool
Coming up with new ideas for solving company challenges are hard. That's why you hold meetings with your team to discuss and come up with a solution. Use Catchbox to support your brainstorming meeting – the conversation is dictated by the movement of the box.
The great thing about these sessions is that the totem does not have to stay with one person for any given time, dialogue can be created by bouncing the item back and forth between whomever are brainstorming together.
3. Works for Smaller Sessions Too
Catchbox is also the perfect tool for shaping the discussion in smaller groups such as workshops or training sessions. Use it as a speaker's totem, microphone or even a recording device to save your discussions for later.
To learn more click link how to plan a company meeting that will inspire!