How to set up a remote meeting for your team
For many companies around the world, working from home has quickly become the new normal. Though we are more connected than ever, it can still be tricky to maintain the energy and focus of your office environment when at home - especially if you're usually part of a tight-knit team.
One of the best ways to stay on task and connected with your team is to hold regular remote meetings. Whether it's a monthly review or just a quick 5 minute chat with colleagues, video conferencing is ideal for ensuring everyone is on the same page and ready to deal with the tasks at hand.
What's needed for a great remote meeting?
To make the most of your video calls, it's crucial to ensure your video setup is up to the job. Here's a few things to keep in mind when you're preparing to take your meeting online.
Choose a platform for everyone: There are plenty of great video conferencing solutions available right now, including Zoom or Skype and Google Hangouts. Make sure your team agrees on using a single platform, so that meetings are always quick and easy to organize
Clear audio is crucial: We've probably all been on a call that's been plagued by poor audio quality. Bad sound can range from an annoying distraction to an all-out meeting-killer. Whilst built-in laptop mics usually lack quality, specialist equipment can be expensive and require installation.
Always easy to use: You never know when you might need to jump on a call. To make sure you're always ready to dive in, it's best to opt for a solution that requires minimum maintenance effort. Nobody wants to deal with dead batteries or lost cables when preparing for a key meeting.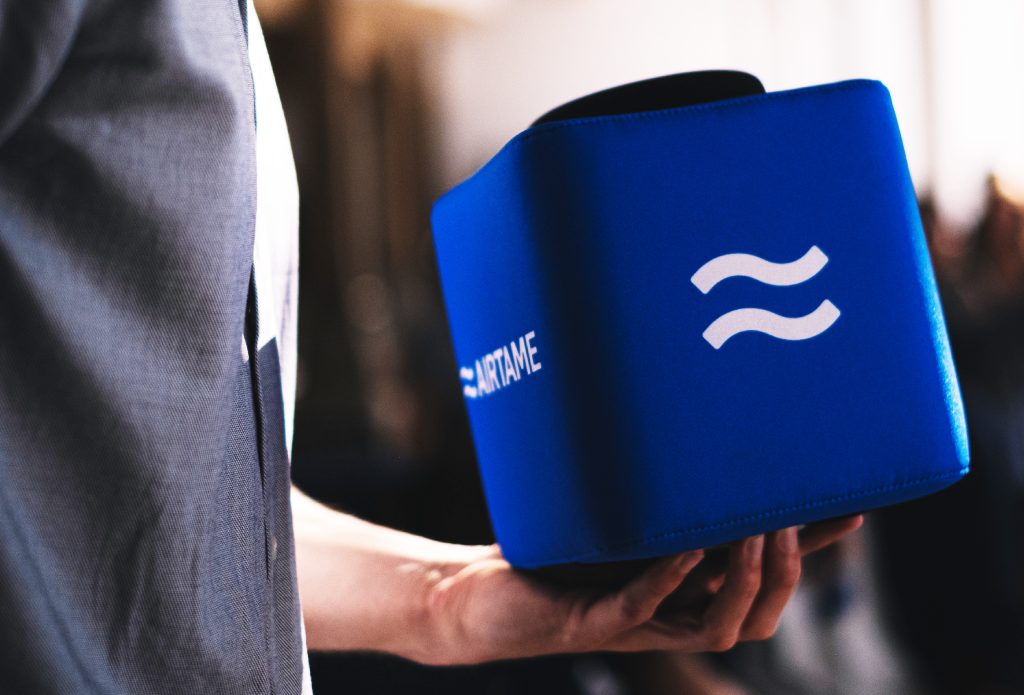 Get closer to your colleagues with Catchbox
When choosing your video conferencing setup, it can be hard to find the right balance between ease of use & setup and ensuring high-quality calls. Catchbox makes video collaboration just as engaging as meeting in-person by providing superb audio quality, simple setup and minimal maintenance.
Catchbox syncs with all major video collaboration platforms via USB, meaning you can plug and play with any device, anywhere. The Wireless Charger ensures you don't need to worry about missing cables or loose batteries - simply place your Catchbox on the pad and charge in time for your next call. The cover is also fully customizable, meaning you can place your company brand at the centre of any meeting, even when you're not in the office.
Catchbox is used for video collaboration by companies such as Airtame to keep colleagues across the globe connected. With more and more of us working remotely, ensuring that teams are equipped to work effectively via video conferencing is increasingly important for managers and administrators.
"Our New York Office – who have previously suffered a lot from poor audio quality – immediately asked me what the new set up was. It was such an improvement to what they had been used to." Simon, Chief Meeting Designer at Airtame.
5 simple steps to setup Catchbox for your next remote meeting
#1: Connect the receiver
Plug the included USB data cable to the computer's USB port and connect it to the receiver's micro-USB socket.
#2: Enable the input signal
Go to your computer's audio settings and enable the input signal from Catchbox.
#3: Turn on the transmitter and receiver
Twist the microphone capsule 90 degrees to release the magnetic lock and pull it upwards. Turn on the transmitter and receiver - the status LED should turn green on both.
#4: Get things just right
Adjust the volume level - test it first by speaking into the microphone and adjust it using the volume knob on the receiver and/or transmitter.
#5: Kickstart the conversation!
Send an invite or meeting link to your team and start sharing ideas! After the meeting, place your Catchbox on the wireless charger. Next time you need to jump on a call, everything will be ready to go straight away -just pick up the Catchbox and start talking!
Find out more about Catchbox for video collaboration and remote meetings here.
✅all of our products are in stock
✅products are delivered by up to 9 days
Recommended products for video conferencing