Catchbox - Now with ViralOff
Catchbox has partnered Polygiene® to apply ViralOff™ technology to our throwable wireless microphones
Starting September 2021, all Catchboxes will utilize a new, self-cleaning antimicrobial cover, which reduces over 99% of microbes (viruses, bacteria, fungi) within 2 hours. The treated fabric has been tested according to international standards and found to be effective against the coronavirus (SARS-CoV-2) and the most common strains of flu (H3N2, H1N1).
The new antimicrobial covers mark a major milestone in our ongoing effort to improve our products amidst an international health crisis. Having worked on this full-speed since the onset of the pandemic, and after over a year of rigorous testing, we're now happy and confident to put in your hands a better, more hygienic Catchbox.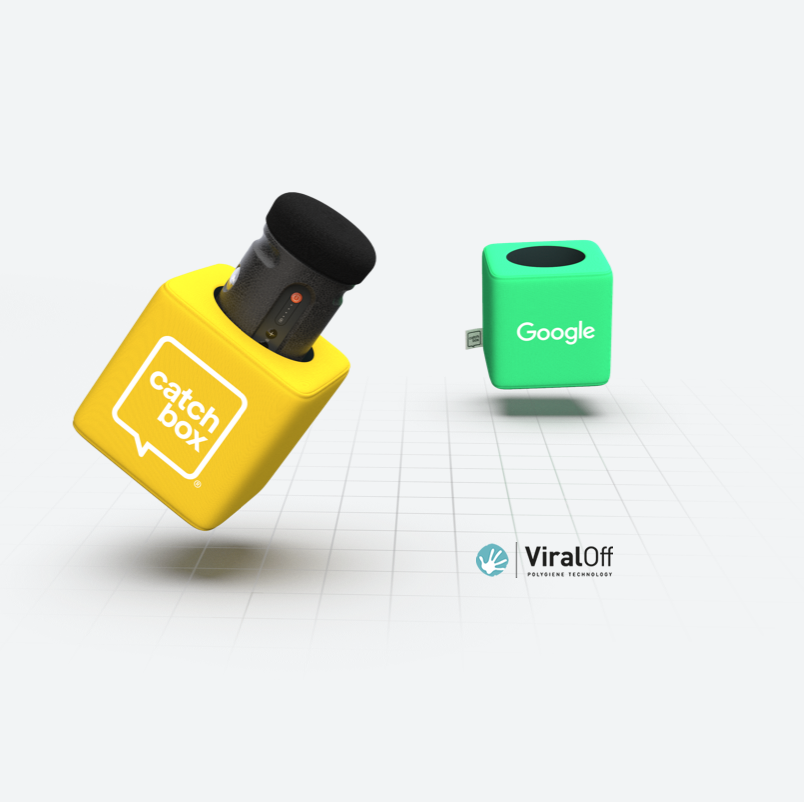 What is ViralOff?
While the Catchbox still looks, feels, and works the same, the soft fabric used to cover Catchboxes is now treated with Polygiene ViralOff™. The ViralOff treatment features an active biocide (silver chloride) which neutralizes viruses, bacteria and fungi on the treatment material.
Polygiene ViralOff was developed as an answer to the acute situation of the Coronavirus pandemic but could be a long-term solution that enhances hygiene and protection factors of the material.
A shared vision: the partnership between Catchbox and Polygiene
Across the globe, in-person events are making a tentative return, hybrid work models are peaking in popularity, and schools are making precautionary preparations in case hybrid instruction becomes necessary. In each of these environments, AV technology plays an increasingly crucial role in connecting on-site participants with those joining remotely.
As an intuitive wireless microphone solution, Catchbox has helped companies and institutions of all shapes and sizes adapt to the new reality. But even as the world returns to some sort of normal, concerns surrounding the epidemiological situation are not to be taken lightly. For Catchbox CEO Mikelis Studers, this meant proactively seeking a solution that could help to minimize the risks of using shared items in group environments.
Catchbox was designed to bring people together and allow everyone to speak up and share their ideas, "Once we learned about Polygiene ViralOff, we knew it would be a perfect addition for the fabrics used on our throwable wireless microphones that would enable our clients to build better hybrid work and learning environments."
Polygiene is one the textile industry's leading innovators and has been helping globally-renowned brands create sustainable, skin-friendly garments for over 15 years. The application of Polygiene's ViralOff technology to Catchbox covers and foam caps marks an exciting new chapter for the company; this is the first time the treatment has been applied to a technology product;
"This project is unique and shows the added value our antimicrobial technologies can give to a piece of technology intended for shared use. We see significant potential as this kind of product will be in high demand as society starts to open up. And we are happy to start working with this exciting and innovative brand", says Haymo Strubel VP Commercial Operations EMEA Polygiene.
How is the ViralOff treatment applied?
The Viraloff treatment is applied during the manufacturing process, rather than as a spray-on coating. During the treatment process, the material used to create Catchbox covers and foam caps undergo an immersion process that bonds both the Viraloff active ingredient (silver chloride) and the DWR (Dirt and water repellant treatment) to the fabrics. This ensures that the Viraloff treatment is always on and its presence is not reduced by cleaning, disinfection or gradual wear and tear.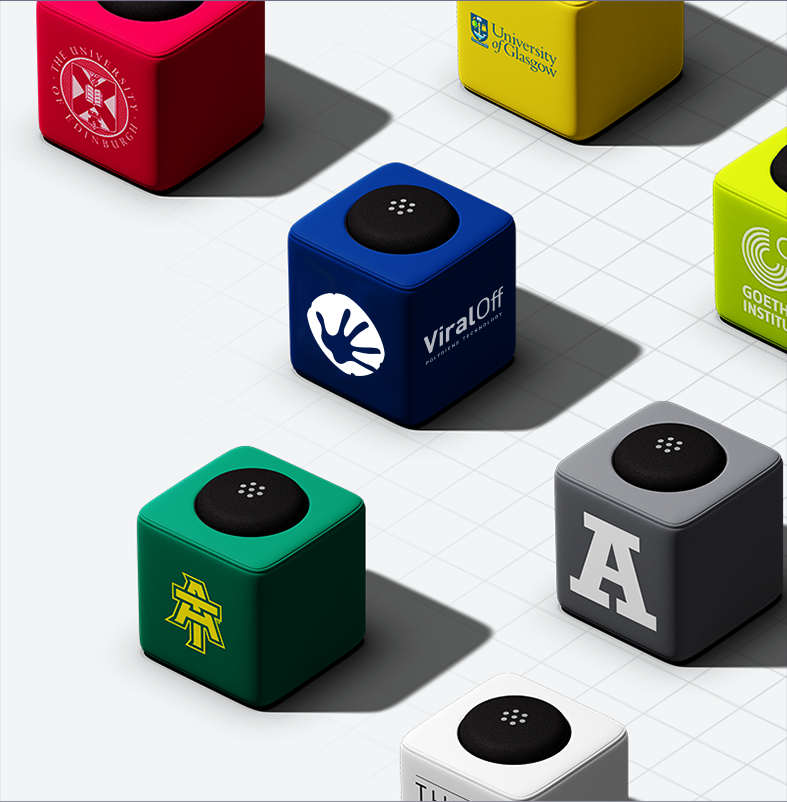 What ViralOff does (and doesn't) do
Catchbox covers treated with Polygiene ViralOff have gone through various tests that have shown that the treatment does inhibit bacteria, viruses, and fungi in the material, reducing over 99% of microbes within 2 hours.
The cover can be hand-washed at least 15 times without losing its 99% efficacy, however, the antimicrobial treatment allows for less frequent washes and thus increases cover longevity. Polygiene ViralOff protects the treated material.
Polygiene ViralOff does not prevent disease but does protect the treated material. You can learn more by visiting the Polygiene website.
How do I get a Catchbox with ViralOff?
All new Catchboxes now ship with a ViralOff treated cover as standard.
Cover printing and customization are still available in the same capacity as before. Update your existing Catchbox or order a new cover here
Your questions answered
Does ViralOff work against Covid?
Yes. There will be a 99% reduction in the SARS-CoV-2 virus on ViralOff treated fabric within 2 hours.
Is it safe for the skin?
Yes. Polygiene ViralOff does not interfere with the natural bacterial flora of the skin, as it is only active in the treated material. The active ingredient is a biocide – silver chloride, which is not classed as nano-silver. It is certified by Oeko-tex® Eco Passports.
What are Oeko-tex® Eco Passports?
Eco Passport by Oeko-tex® is an independent certification system for chemicals, colorants, and auxiliaries used in the textile and leather industry. During a multistep process, they analyze whether each individual ingredient in the chemical product meets the statutory requirements and that it is not harmful to human health. You can read more here.
You mentioned tests according to international standards. What might those be?
IBRG [S.Aureus] and ISO18184:2019 [SARS-CoV-2, H3N2, H1N1]. For more information please visit the Polygiene website.
Does ViralOff work against other viruses as well?
It is very likely, however, we cannot make such a claim because it has thus far only been tested against the most common strains of flu (H3N2, H1N1) and the coronavirus (SARS-CoV-2). The testing process is lengthy and getting official certification for other, less common viruses would delay launching a solution that is acutely needed.
How long does ViralOff Treatment last?
The active ingredient (Silver Biocide) does not wear off - it will last as long as your Catchbox cover.
Can I use disinfectant on my Catchbox?
You can use any alcohol-based disinfectant on your Catchbox cover and microphone foam cap. As the treatment has been applied using an immersion process during manufacturing, cleaning your Catchbox fabrics with disinfectant will not affect the ViralOff active agent in any way.
How do I wash my Catchbox covers?
You can find a dedicated page on how to care for your Catchbox covers here.
Are the Catchbox covers still dirt and water repellant?
Yes. The treatment doesn't affect the existing dirt and water repellent properties of our Catchbox covers, so your Catchboxes will continue to look and feel great year-round.
Has anything changed in regards to cover customization?
Cover printing and customization are still available in the same capacity as before.
I have more questions. Who do I talk to?
Our support team will be happy to talk to you! You can reach us here or reach out to us using the chat window.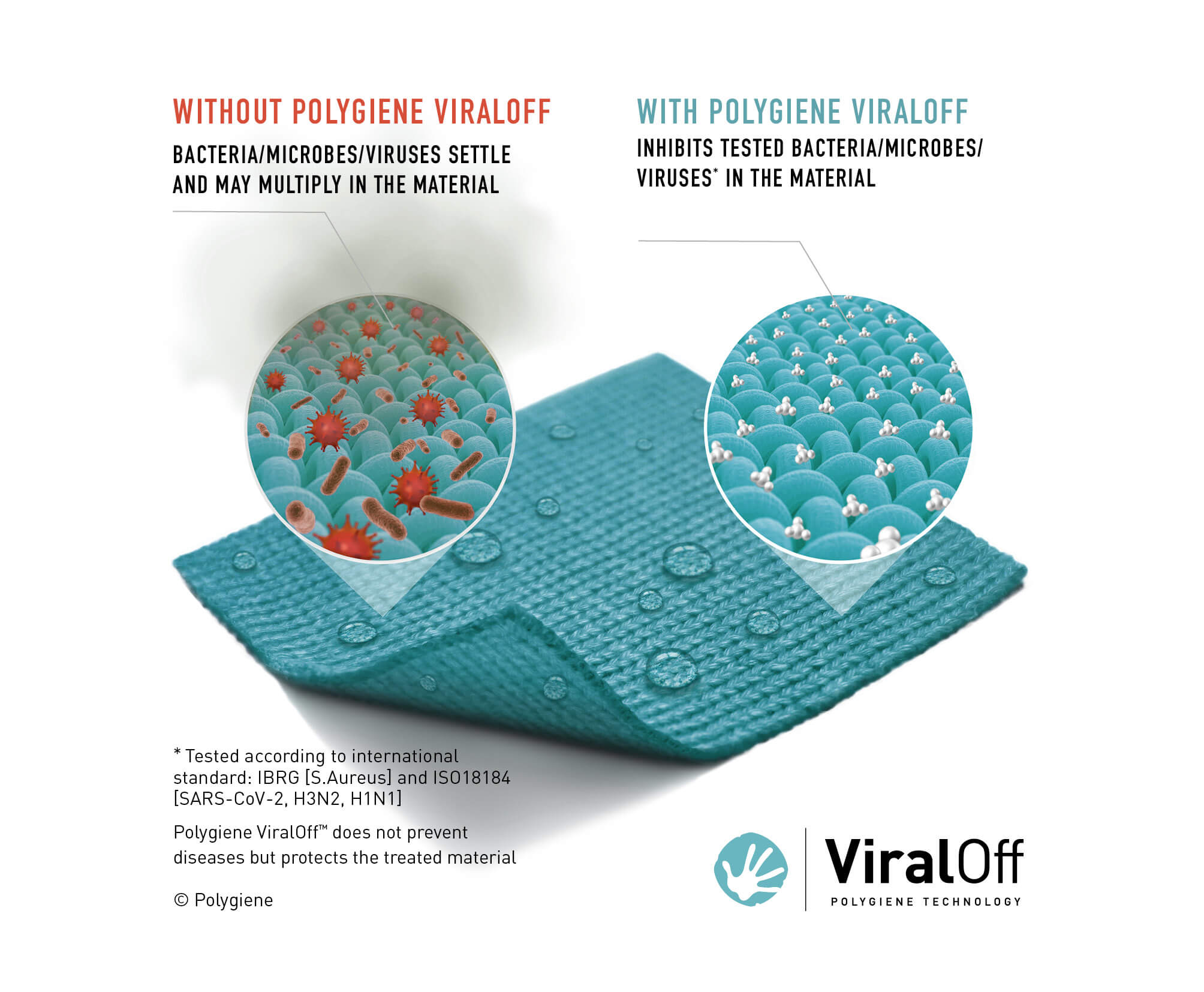 Polygiene® ViralOff
Self-disinfecting technology
All Catchbox covers and microphone foam caps are treated to result in a 99% reduction in bacteria and viruses (including Covid-19) within 2 hours. Order your Catchbox with ViralOff™ now