Comparing Microphone Systems
Which solution is the best choice for your space?
Over the past few years, audiovisual technology has begun to play a key role in the day-to-day functioning of a wide variety of industries.
Where once 'AV' might have been associated primarily with the world of events and live sound, this category of technology is increasingly critical to ensuring immersive, real-time communication in a globally connected work environment. What's more, with the rise of hybrid meetings and flexible space in the post-pandemic workplace, this trend is only set to accelerate.
Choosing the right microphone system is one of the most important decisions to make when designing a communications space. Whilst it might be tempting to focus on the 'visual' half of AV, audio is ultimately what makes or breaks communication. Getting the right microphone system for your conference room, seminar hall or breakout area can often be the difference between a dynamic, fully-booked space and an expensive, rarely-used room.
With so many types of microphone systems available, it is important to research which type of solution is likely to suit the needs of your space. In this comparison of different wireless microphone systems, we'll dive into the pros and cons of different solutions and the scenarios in which they work best.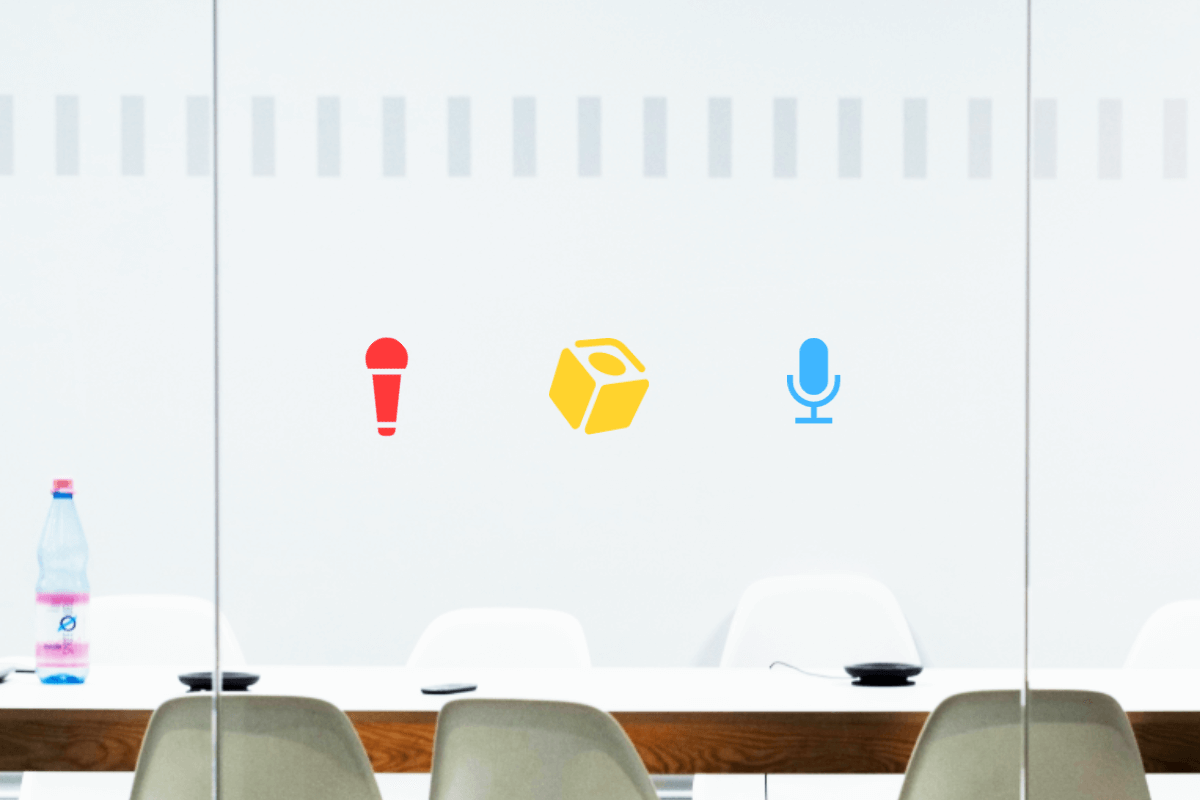 Beam-forming & Beam-tracking microphones (ceiling or wall-mounted)
A relatively new category of microphone, these systems are typically mounted to the ceiling or wall and are packed with a host of innovations. Most use a form of beam-forming or even beam-tracking technology to provide hyper-targeted audio pickup.
These systems often use multiple mics, either within a single casing or in multiple locations around the room in order to localize sound sources and focus on the speaker in the room. Some of the most advanced solutions use enhanced algorithms that allow for various setups and configuration of priority zones & exclusion zones within the space.
Mounted solutions are attractive in that they remove the need for cables or space on desks or conference tables. Whilst not technically a wireless microphone system, they claim to offer the ability for speakers to move around the room freely without needing to worry about their proximity to the microphone.
Yet all this freedom comes with a couple of potential pain points. Whilst these mics use advanced tech to isolate the speaker from background noise, the tech often has quite a lot to contend with. Open windows, air conditioners, water pipes - busy offices are seldom silent. Throw in a couple of noisy participants and it can quickly become difficult to isolate any one sound effectively.
Are the algorithms up to the job? Perhaps, but there's also the question of setting up and paying for such a system. A single mounted unit can cost upwards of $4k before installation. In larger rooms with multiple units, costs can easily rise to over $10k in investment after soundproofing and installation.
As a result, beam-forming or beam-tracking microphones are best suited for small-mid sized conference rooms with minimal background noise. The advanced tech comes with a price tag to match, so it's really a solution aimed at companies with a sizeable AV budget and multiple rooms for scale.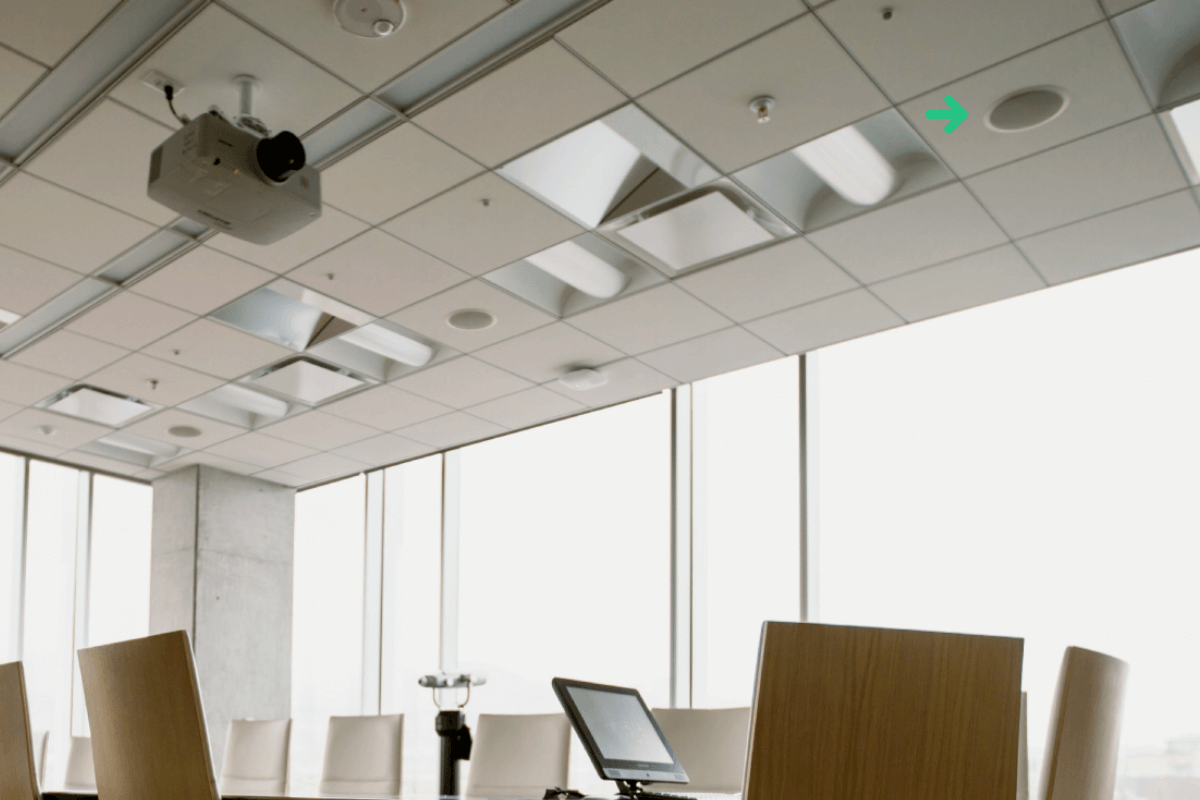 Summary
Pros
Offer a 'natural' speaking experience
Packed with audio-enhancing technology
Cons
Expensive
Susceptible to background noise
Best for
Small-to midsize meeting and conference rooms, companies with large AV budgets and an in-house team
All-in-One soundbars
Soundbars are the audio component of complete video conferencing solutions, often appearing as part of a single device or set that includes a computer & speakers. Many offer casting or BYOD (bring your own device) functionality for easy connectivity. This 'one-stop-shop' approach to video conferencing is particularly attractive to companies who lack an in-house AV specialist and as such, soundbars have become an increasingly popular solution for small meeting rooms and huddle spaces.
The problem with such all-in-one solutions is whilst they might excel in one aspect, they will be lacking in another. Usually, priority is given to camera quality, with the system's speakers or the microphone pickup capabilities falling short. Such a system might offer good performance in huddle spaces and small meeting rooms with 2-4 participants. But in larger spaces that can host more people, acoustics and mic proximity begin to cause problems.
With the rise of hybrid work and video-conferencing platforms, the industry has witnessed the emergence of platform-specific soundbars. Having your VC hardware designed specifically for your preferred platform might seem like a no-brainer at first, but this approach can cause headaches later down the line. If your soundbar is designed for Teams and you have a client that insists on using Zoom, you might find yourself stuck with an expensive mistake.
All-in-one soundbars offer the attraction of a simplified room set-up where everything can be found in one place. Convenience does come at a price, and in many cases assembling your own system from specialised microphones, speakers and computer systems will deliver better quality at a lower price. As such, these solutions are best suited for small, frequently used spaces where convenience for the user is king.
Summary
Pros
All-in-one convenience
Keep tables wire and clutter-free
Cons
Convenience might sacrifice quality
Not suitable for larger spaces
Best for
Small meeting and huddle rooms with up to 4 people
Tabletop microphones
A mainstay of meeting rooms and boardrooms around the globe, tabletop mics (sometimes called conference phones) have stood the test of time and held firm against plenty of disruptive new tech. Why so? For starters, tabletop mics are designed to be placed close to the speaker, and the closer the mic is to the source of sound, the better the pickup will be. For all the advances in technology found in more expensive systems, this is hard to argue with.
As well as offering reliable audio quality, most tabletop microphone systems are relatively easy to use. When rooms are host to multiple meetings a day, it is crucial that the technology in play has a minimal learning curve and can be used from the off. Such systems typically offer high price performance and decent build quality, though it certainly pays to research the market given the wealth of solutions on offer.
Whilst traditional tabletop and conference mics still have a lot to offer, there are areas where this type of solution shows its age when compared to newer offerings. Most tabletop systems are wired, which significantly reduces their flexibility. In dynamic, collaborative spaces, creativity can feel stifled if everyone has to stay in the same seat around the table at all times just to ensure mic pickup. What's more, changing table positions or room layouts can lead to ripped out carpets and drilling into walls. In today's fast-changing office environment, this is just not practical for many companies.
Being at table level also has its drawbacks. Tabletop microphone systems are close to the speaker, but that also means they are close to the speaker's paper rustling, coffee slurping, and keyboard tapping. Advanced solutions might incorporate noise-cancelling technologies, but such features are likely to come with a substantial premium
It's unlikely that tabletop mics will be fully replaced by soundbars or ceiling mics as these systems continue to offer high quality for their price. Yet as collaboration becomes an increasingly hot topic in office design, the lack of mobility and flexibility offered by wired solutions might make them less attractive as investments for the future.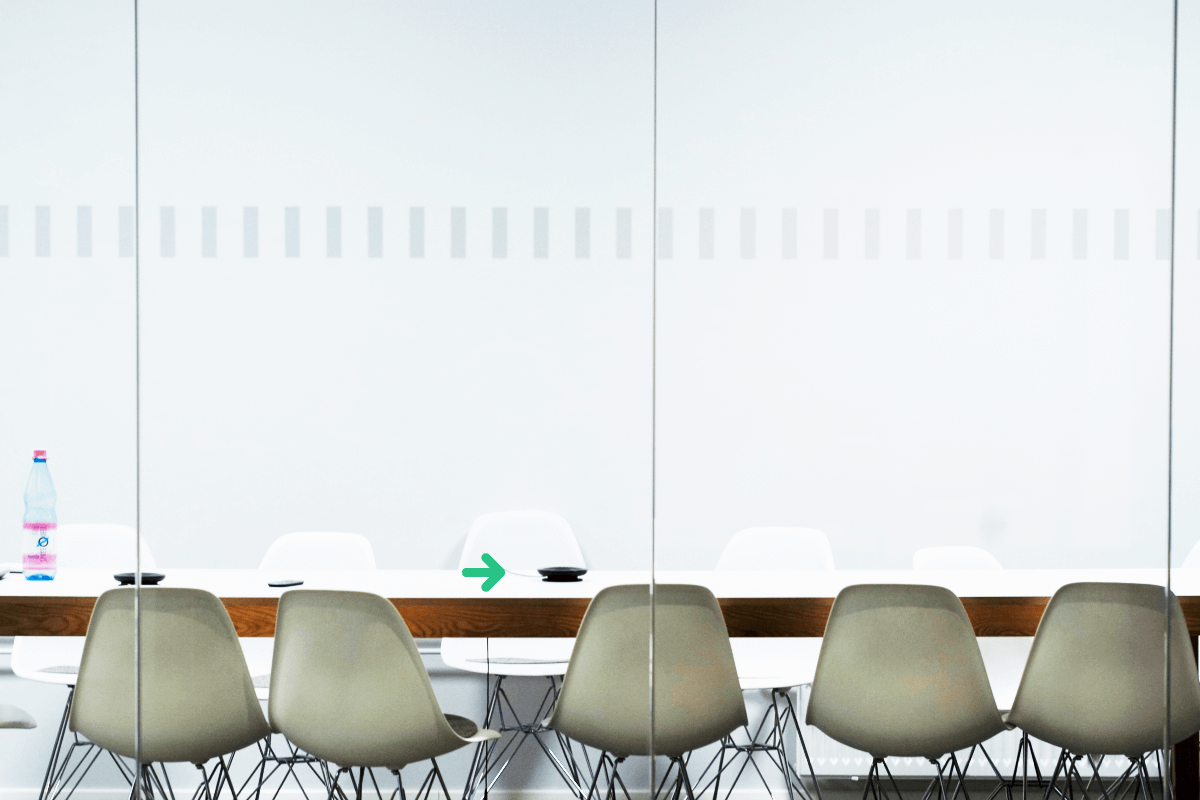 Summary
Pros
Reliable audio pickup
Simple to use when set up correctly
Cons
Picks up all noise from the table (paper rustling, coughing etc)
Plenty of wires & requires a fixed table
Best for
Small-midsized conference rooms with fixed table setups
Wireless microphone systems
Wireless microphone systems come in all shapes, sizes and use cases, from TV and film production to live events and more. Wireless mics aim to offer hands-free audio pickup, giving increased versatility without compromising on quality.
The 'beltpack' microphone is the industry standard for a wearable wireless microphone (earning its name from the fact the transmitter is typically clipped to the belt area). Beltpacks offer the user a choice between wearing a headset or lavalier attachment and are an astute choice when given a presentation or speech to a mid-large sized crowd. In recent years, these types of microphone systems have begun to offer more channels, so that multiple transmitters can be used in a single room simultaneously.
Wireless microphone systems are mainstays of large events and conferences, where speakers favour hands-free delivery on-stage. This type of microphone system is increasingly popular in other settings such as university lecture theatres and company all-hands meetings. As more and more scenarios include a 'hybrid' element - that is, some participants joining the room from a remote location, the flexibility and versatility of wireless microphones has never more important.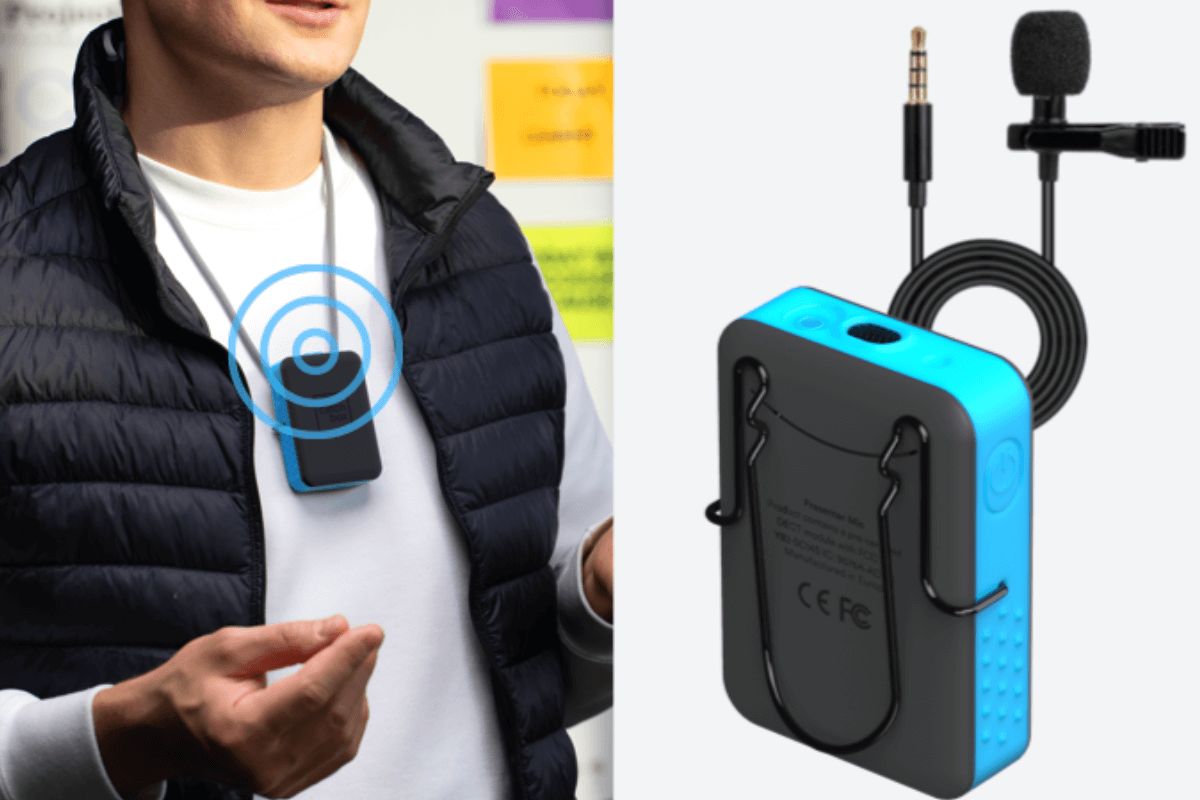 Catchbox Plus - the wireless microphone system for collaborative environments
As a company, Catchbox is best-known for creating the world's first throwable microphone. Early versions of the Catchbox focused on transforming existing beltpack systems into throwable audience mics (a product that has evolved into Catchbox Mod).
These days, Catchbox creates comprehensive wireless microphone systems that are designed to maximize collaboration in any environment.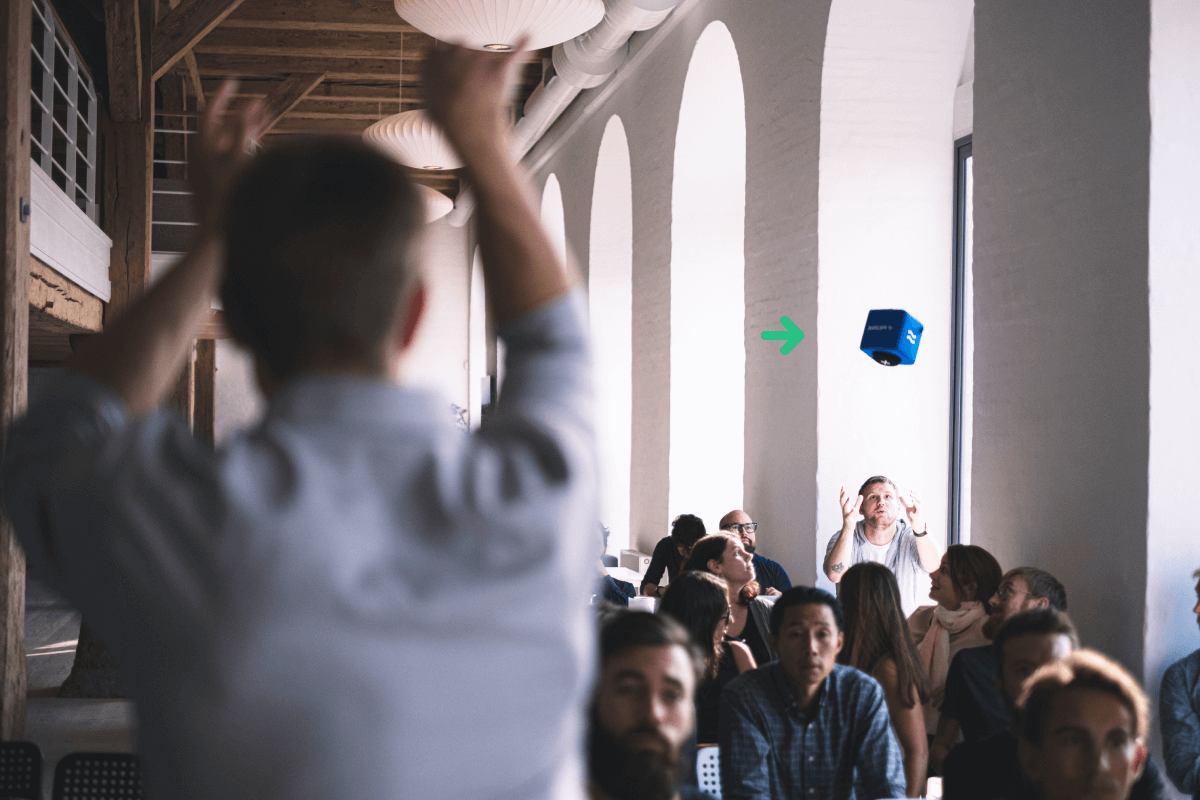 Our flagship system - Catchbox Plus - incorporates the unique capabilities of the throwable mic into a powerful professional-grade wireless microphone system. The Plus system has two mic channels and features license-free DECT, ensuring high-quality uninterrupted audio at all times. The Catchbox Plus system also includes the Presenter mic, a compact beltpack transmitter that can be worn on a lanyard or with a lavalier mic.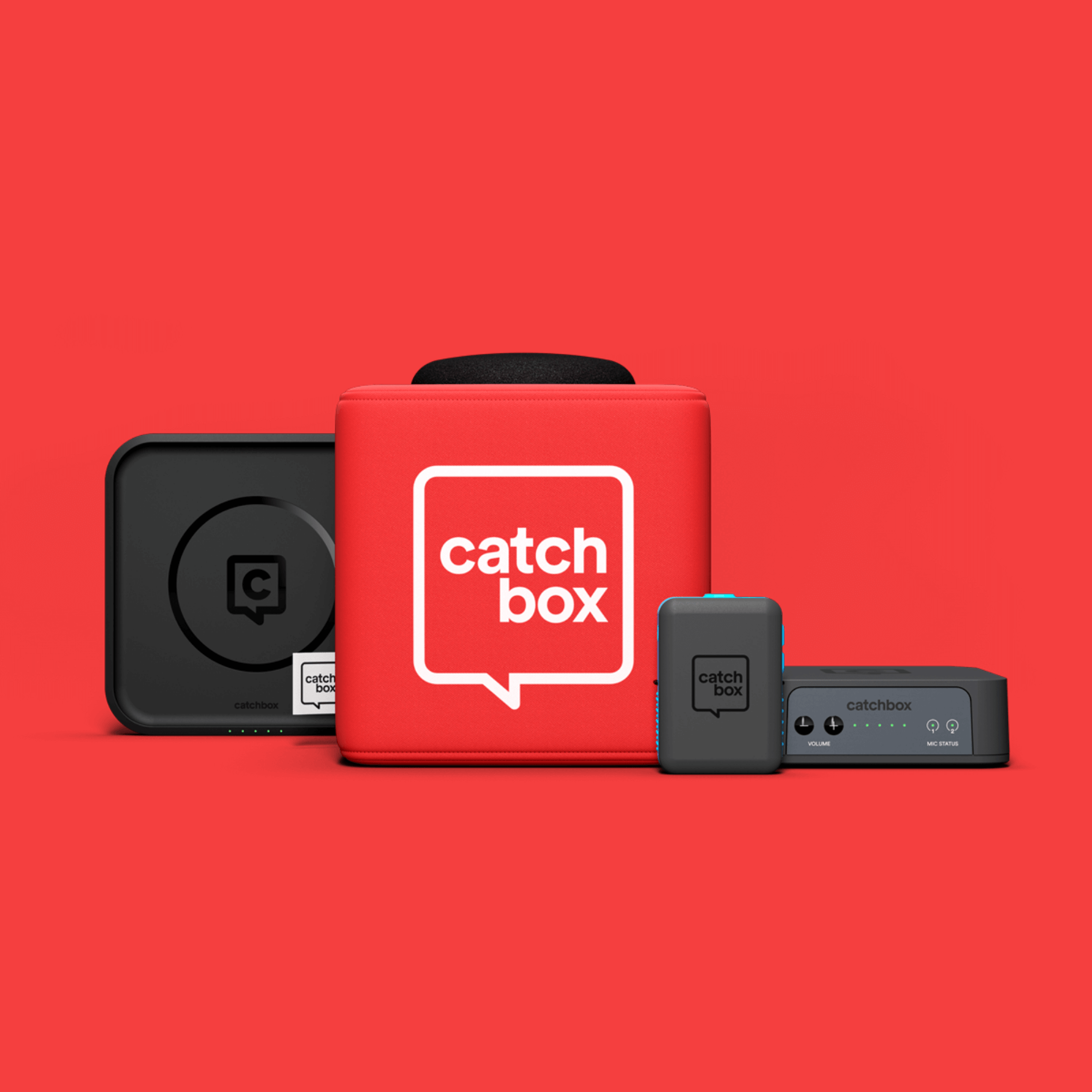 Wireless microphone system
Catchbox Plus
The wireless microphone system designed for collaborative environments. Combining a compact beltpack microphone with our unique throwable mic, Catchbox Plus offers increased interactivity and complete flexibility in any space