The Importance of Design in Product Development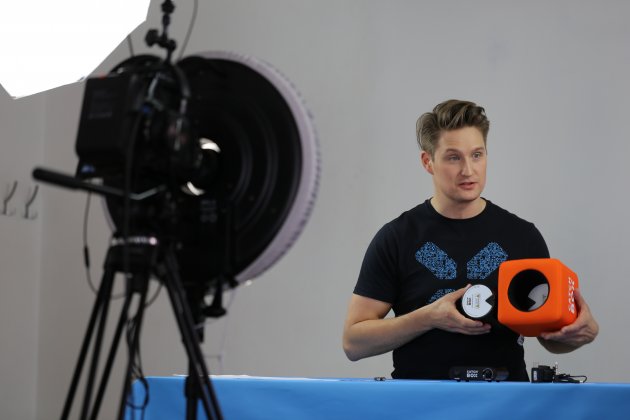 A Way of Thinking
Published on: Sep 18, 2015
The importance of design has been an essential part of our company from the very beginning. In fact, at Catchbox design is not just a buzz-word, but a way of thinking. We are, of course, not the only ones to do so – many companies have realized the importance of design integration, from startups to large corporations.
In June, Catchbox received the Red Dot Product Design award, and more recently Pyry Taanila, our lead designer & co-founder, was awarded the title of "Young Designer of the Year 2015" in Finland.
Since the importance of design has played such an important role in our company, we want to share with you our thoughts on design, and the key pillars that we think are important in product development.

Incorporating Design from the Start
Pyry: "The number one thing I've always emphasized is that design should never be an add-on. You have to incorporate design from the very beginning."
A lot of companies make the mistake of incorporating design too late in the product development process.
But does it matter? Absolutely.
Incorporating design from the beginning allows all components of a product to work together seamlessly, providing a superior user experience. With the Catchbox, this meant that all of the electronics, as well as the exterior of the product, were developed at the same time.
This allowed us to create a product that had a construction and shape that ensured the best audio quality while withstanding any impact from falling.
Pyry: "Having a design based approach from the beginning allows for greater diversity – the product will be more in tune with all of the necessary components."
Going Beyond Just Aesthetics
Continuing from the first point we made, a lot of companies turn their eye to design to give it a graphical image. The reason for this is that design is often used as a synonym for aesthetics. This should never be the case.
The truth is that it's more than that – design takes into consideration other elements such as manufacturing, logistical concerns, and business applications. Essentially, design largely defines how the product works.
Because Catchbox hosts electronic equipment that is meant to be thrown around in the air, we had to make design decisions that would support its core purpose – things like the composition of the cover, the quality and type of electronic components used, and the locking mechanism. All of these had to be carefully thought out in order to make the product extremely lightweight, durable and soft.
Pyry: "You always have to question everything – Why am I making this design decision? What is the importance of this specific design? Who will be using this product? Does anyone actually need this kind of feature?"
Inspiration for Collaboration
The last pillar we would like to stress is the idea that the designer is the only one who is involved in the design process. A multitude of expert opinions is required in order to get a comprehensive understanding of the product you are designing. In many cases, this involves compromises – a common ground where aesthetics, usability, and manufacturing are in harmony.
However, we would like to stress that the compromises we talk about are all a part of the design. They are not mutually exclusive, but rather a collaboration of different elements that make up the design.
Pyry: "I see collaboration as a source of inspiration. After all, by hearing out other expert opinions you can define your limitations, find inspiration, and compose your design around the parameters available to you."
Each and everyone can make their own custom design for Catchbox. The importance of design in taken into considereation not only while making the product but also while adjusting it to the needs of an end user. Watch this video and learn how to customise Catchbox!
Afterthoughts
The design is important not only for companies that manufacture products but for any company that is interested in creating better value for their end users.
Bringing design in from the start, thinking beyond aesthetics, as well as involving other expert opinions will lead to a design that is more balanced, and more in tune with the desired product use.