Culture Summit
Catchbox Case Study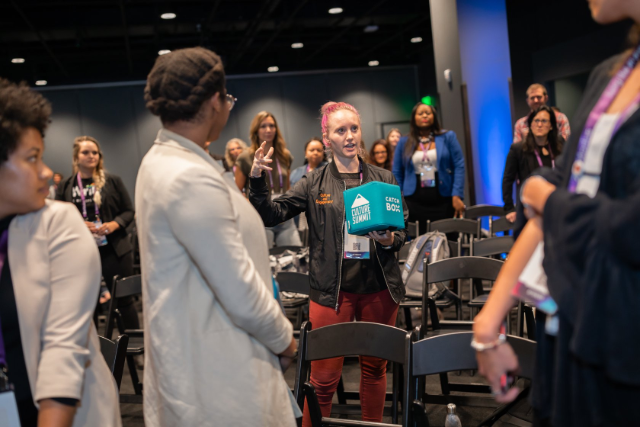 Published on: Jan 28, 2019
Have you or someone you know ever felt like a disengaged employee lost in the day to day tasks of a job, finding little enjoyment or connection you're your co-workers and company?
Who is Culture Summit?
As Culture Summit states, "There's No 'I' in Team, but There is a 'U' in Culture"! The Culture Summit conference addresses each individual attendee by teaching them the skills they need to be successful in their workplace community. According to the founder, Hung Pham, Culture Summit aims to bring together leaders and culture champions together that share insight and best practices that works on building and promoting better cultures in the workplace.
How did Culture Summit use Catchbox to enhance their event?
Culture Summit boasted an audience of 538 attendees at their last yearly conference of primarily HR professions, as well as some c-suite and people managers from other areas of employment. In order to gauge the enjoyment and engagement of attendees, Culture Summit uses survey feedback from conferences in order to understand how they are succeeding and what areas need improvement. The conference consists of different workshops with large audiences that are communicating a variety of information, by using Catchbox technology, we are able to improve their ability to communicate with each other more quickly and effectively due to the nature of the Catchbox technology.
What are the challenges Culture Summit faces and how can Catchbox help?
Each year, Culture Summit grows in the size of the attendees, which is excellent for business. Due to the nature of the conferences, it is important for communication to be able to be quickly accomplished, with large groups of people, which Catchbox allows much better than any other technology on the market. Conference found Hung Pham shares that they have had challenges with keeping the conferences engaging and for people to interact more easily and effectively. These problems are solved with Catchbox by allowing for attendees to easily ask questions after keynotes by throwing the Catchbox to each other and simply speaking into it, rather than having to move and form lines or wait for a microphone to be slowly moved in your direction—or even worse, have to shout out your questions without amplification technology.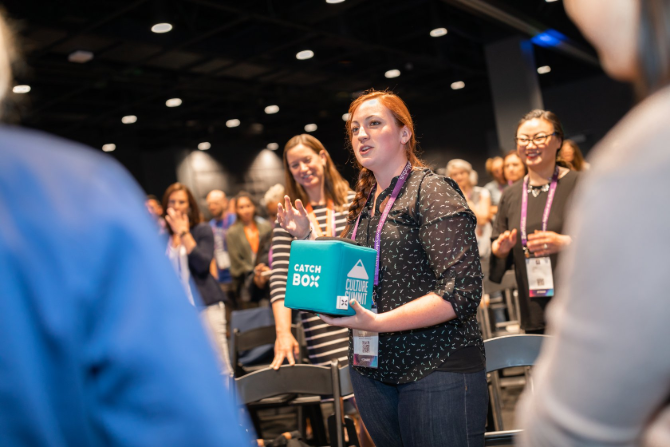 How did attendees of Culture Summit respond to Catchbox?
Survey feedback from clients repeatedly stated that they loved using the Catchbox technology at the conferences. Thanks to Catchbox, we were able to provide Culture Summit with an innovative opportunity to communicate with each other. By using Catchbox in a large group, like the over 500 attendees at this conference, we were able to work with Culture Summit to create an environment that encourages asking questions purely because of the Catchbox technology. It allows attendees to communicate and ask questions quickly and easily and the kinetic component (the throwing!) allows for a typically mundane tasks of asking a question to become innovative and even fun!
What advice did Culture Summit attendees have for others using a Catchbox?
A throwable microphone is a unique idea that allows groups of people to make communication fun, interactive and effective. In an environment like Culture Summit, innovate ideas are being exchanged to improve the quality of life for employees of a variety of companies. Conference attendees had a suggestion for anyone using the Catchbox technology "Don't be afraid to throw it far and also, don't be afraid to catch it!" This encapsulates the primary fun factor we hope Catchbox can bring to any gathering that may be typically seen as routine, or even mundane. Attendees advise that you must also speak directly into the Catchbox to ensure that your question or comment is captured (no matter how strange it might feel the first time!).
Why should every event include a Catchbox?
Culture Summit shared with Catchbox that "we cannot imagine ever doing a conference without the use of Catchbox again" (this is their third year of employing and loving the technology). By providing communication without the traditional microphone, any event or gathering can communicate in a fun, engaging manner that doesn't include lines, writing questions down or waiting on shouting out an answer in a large conference room. Eliminate bored and disengaged participants and increase the fun factor!