Say hello to the new Catchbox Plus system
Packed with new features and products, the new Catchbox Plus wireless microphone system is ideal for capturing audio from anywhere in the room.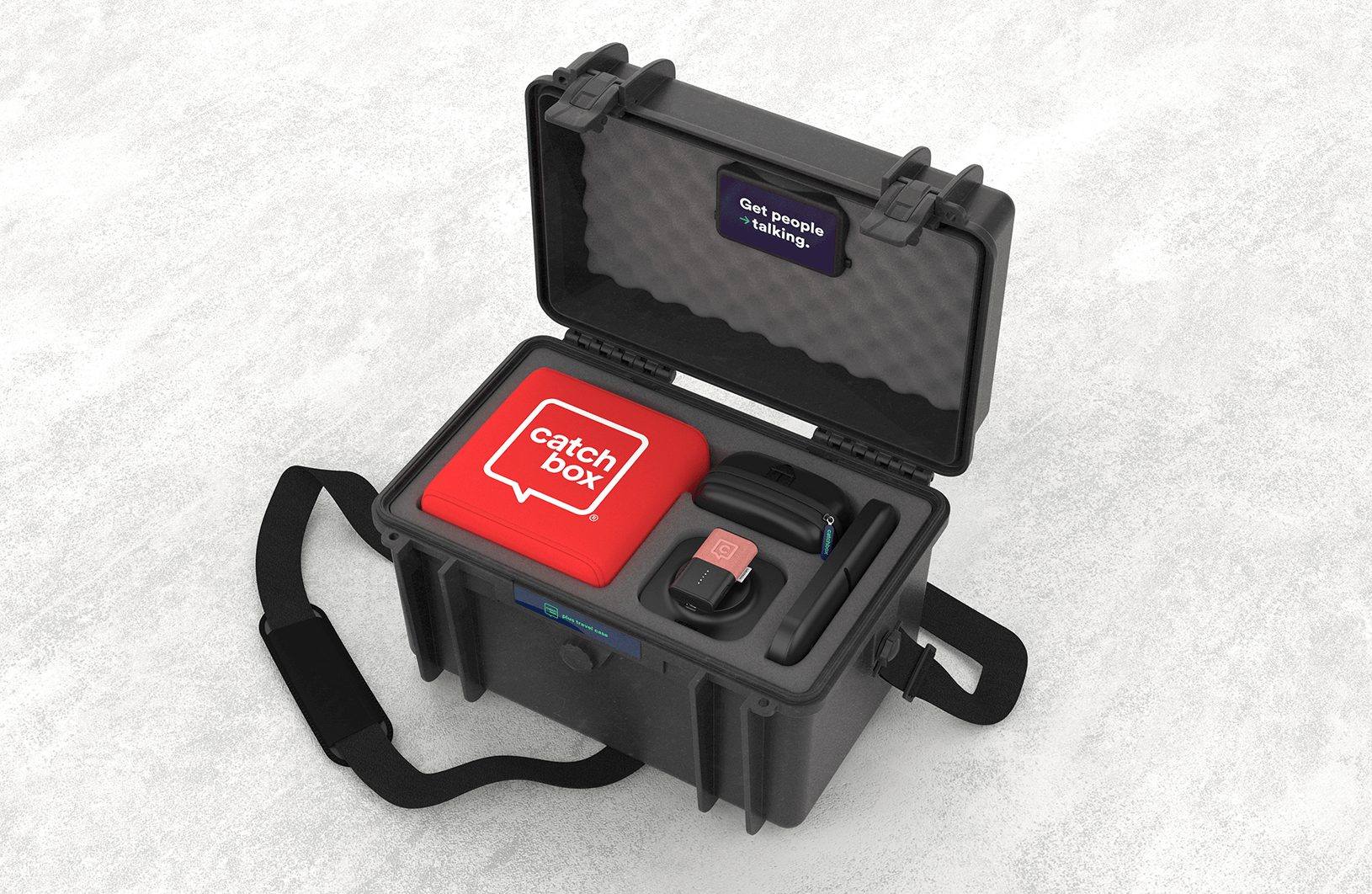 Catchbox Plus is an audio system headlined by its iconic, wireless, throwable Cube. In the wake of the pandemic, it became a central tool for hybrid communication in classrooms, conferences, and corporate offices because everyone had the same problem – what's the best way to have remote participants hear what the in-person audience is saying?
With its high-quality sound, ease of use, and engaging design, the Catchbox Plus wireless microphone system became a quick favorite for whole-room audio capture among AV teams worldwide.
Today, it's clear that hybrid is here to stay.
That's why we've upgraded our offering to better meet the evolving needs of our diverse audience by adding highly-requested new functionalities. At the same time, we've kept those that make Catchbox Plus unique and appealing to all the teachers, students, presenters, organizers, and AV teams that use it day-to-day. View technical specification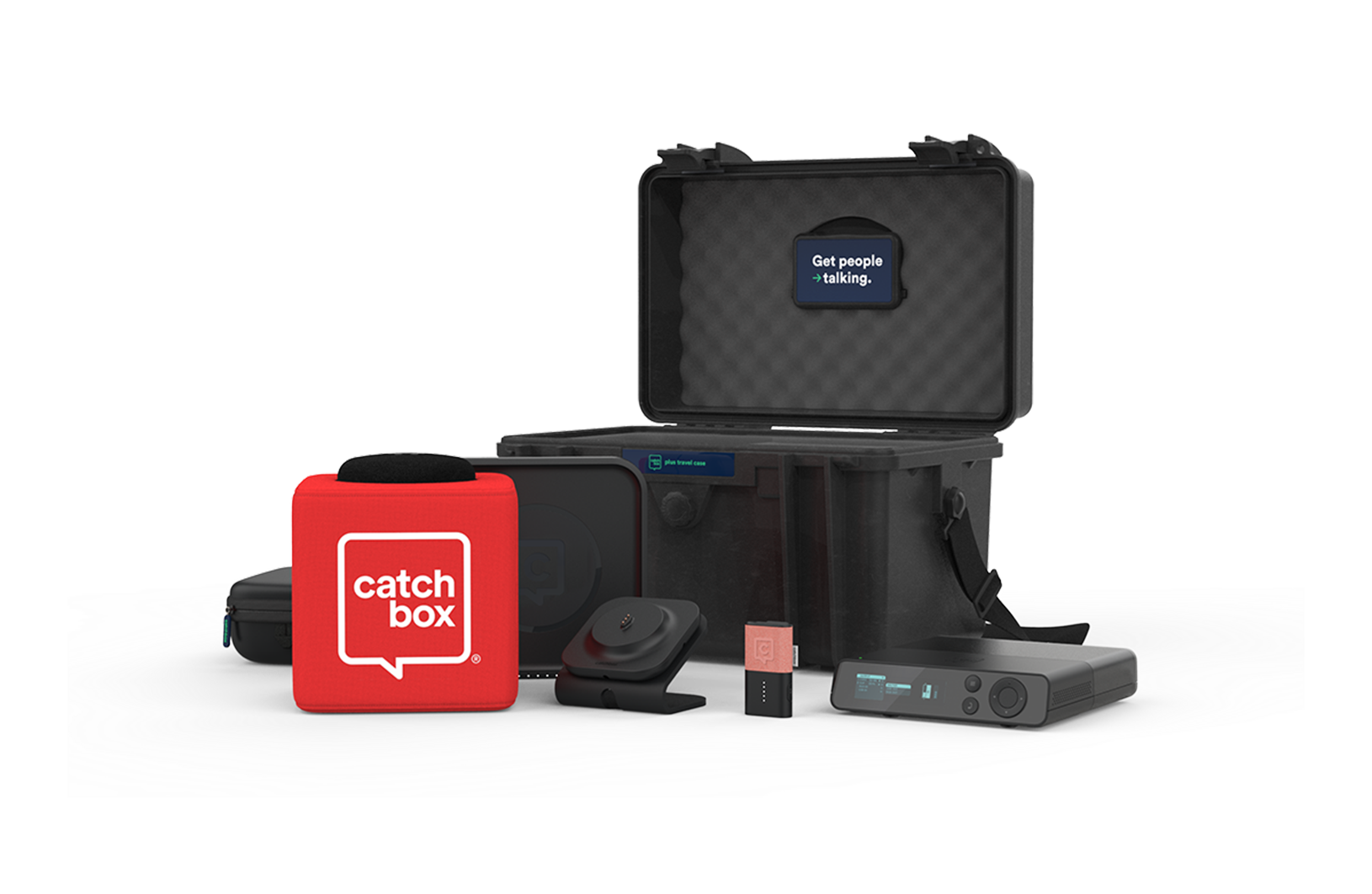 Without further ado, we're happy to announce that communication and collaboration just got a whole lot better with:
Cube – an improved version of our trademark throwable mic
Clip – an all-new, fully customizable wireless lavalier microphone
Hub – a completely redesigned, plug-and-play, mountable dual-channel receiver with mixing capabilities
Plus Pro – an installation-focused version of Catchbox Plus, featuring Dante™ and remote monitoring capabilities
Meet the new Catchbox Plus
At the heart of the new Catchbox Plus are two wireless microphones: the iconic Cube throwable mic and an all-new Clip lavalier microphone. Together they form a complete audio capture solution for any space – conferences, lecture halls, company meeting rooms – and event type – in-person, hybrid, or remote.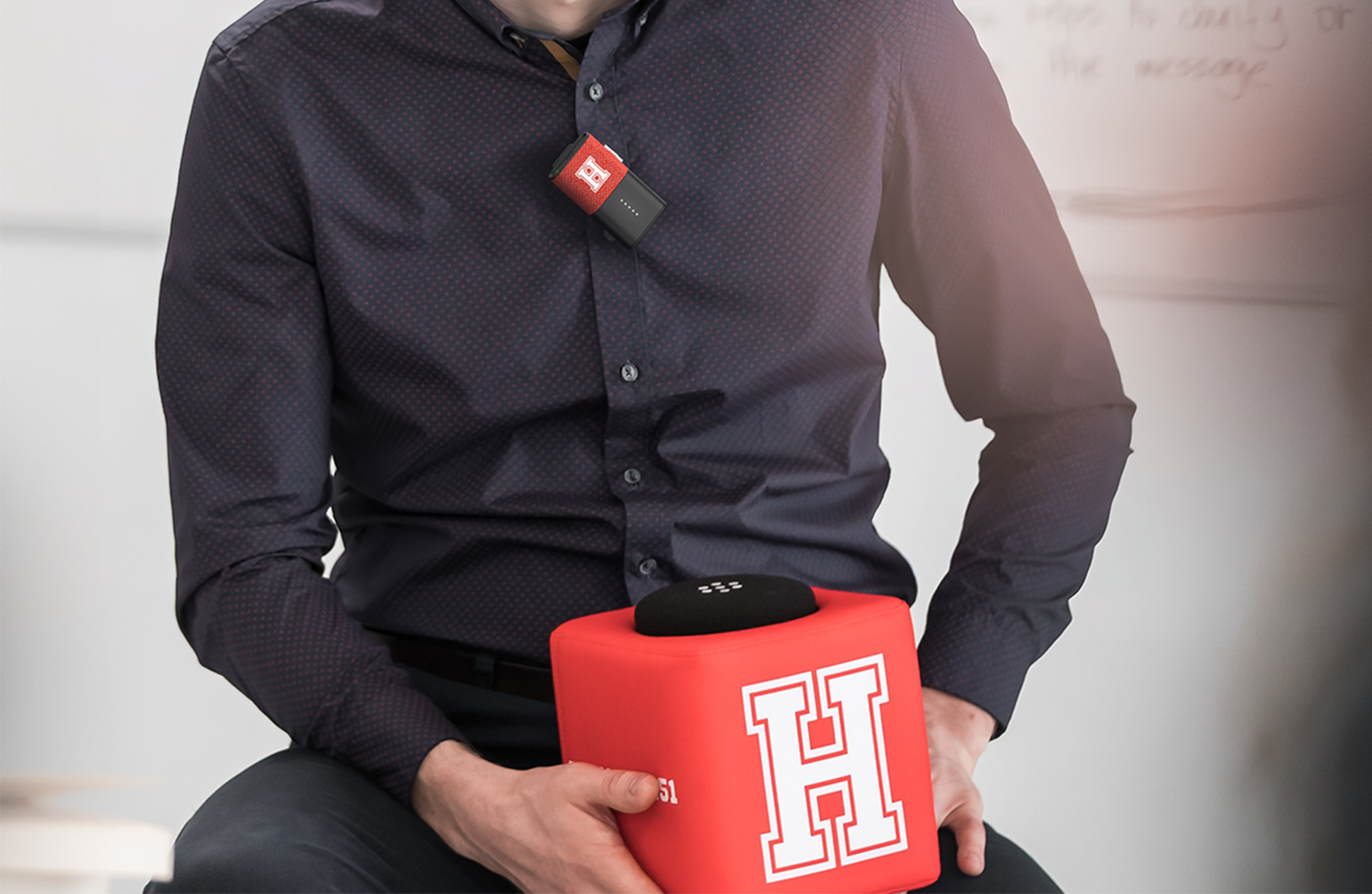 Cube throwable mic
Cube is a wireless, omni-directional, throwable, wirelessly chargeable microphone with a soft, antimicrobial, and customizable cover. View product page
It's the answer to the question – how to get a microphone in front of a speaker in the fastest and most engaging way possible?
Encased in a soft material, the Cube can be safely thrown, caught, or dropped at no risk to the microphone or audience. Safe in more ways than one, the Cube is also treated with self-cleaning ViralOff technology which reduces over 99% of microbes (viruses, bacteria, fungi) on the cover.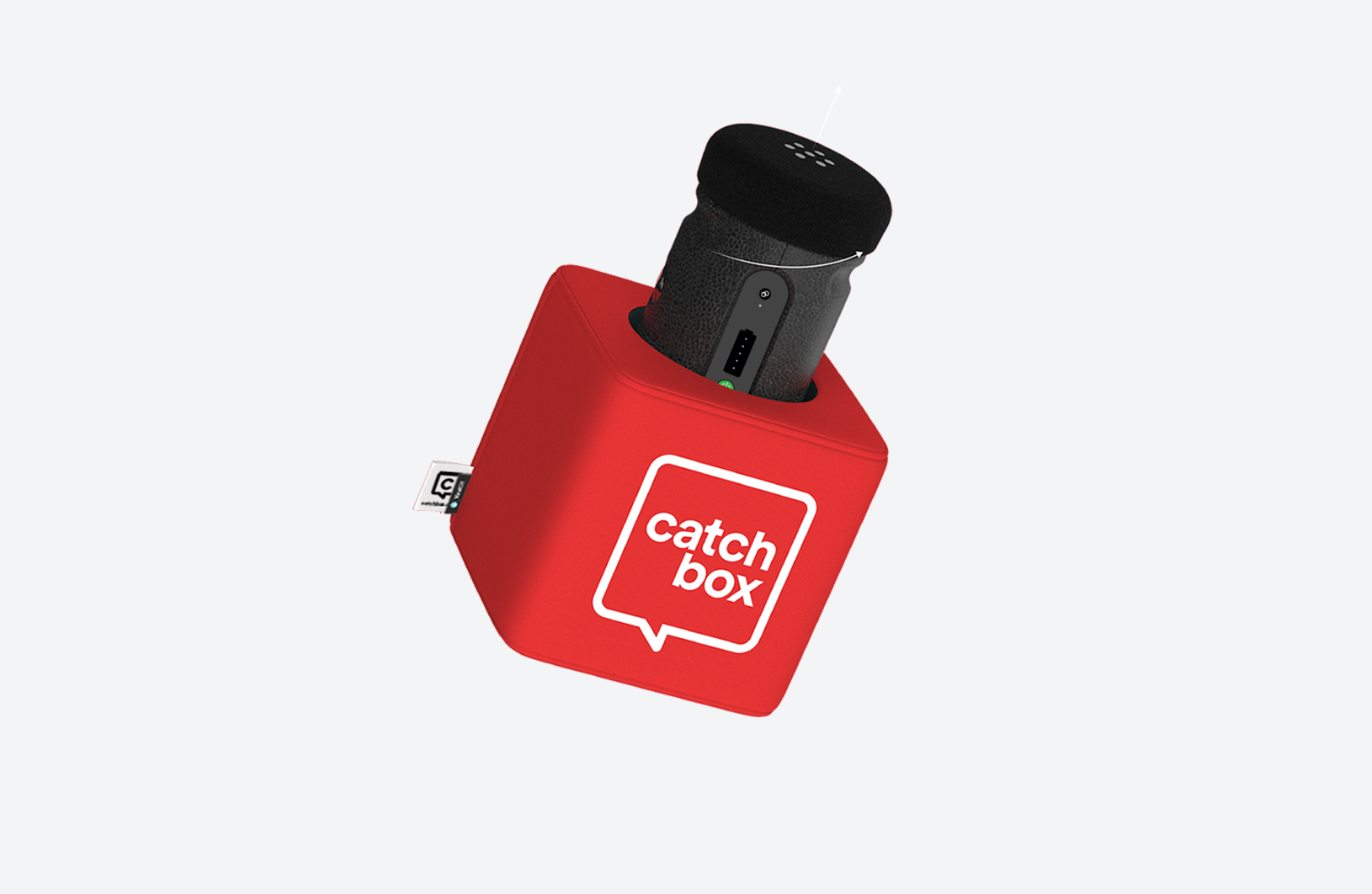 Speaking of the Cube Cover, it's fully customizable. Choose your colors and add your logos to create your unique Catchbox Cube that reflects your brand identity. It will fit right in your lecture hall, or create one-of-a-kind branded photo opportunities at a conference.
The tech inside is pretty clever, too. The wireless omni-directional microphone is super light and boasts a >12 hour battery life, without compromising on audio quality. Our patented auto-mute feature ensures no whooshing sounds when the Cube is thrown, caught, or dropped. Plus, it's wirelessly chargeable with our creatively named Cube Wireless Charger.
But most importantly, it's engaging – people of all ages love throwing and catching the Cube. It has been proven to lighten the mood at conferences and improve engagement and participation in classrooms.
Clip lavalier mic
Clip is a wireless, compact, wearable presenter microphone with a customizable fabric jacket and leave-the-room functionality. View product page
Light, compact, and versatile, Clip is a perfect wireless mic for presenters and teachers. Wear it around your neck or simply clip it on for an unintrusive hands-free experience. You'll forget it's there!
No, really – during our tests, a teacher forgot to take it off and went home with it. Then a different teacher did the same. So we have added a nifty range alarm system to stop that from happening.
The sound quality is top-notch, too. The Clip's omnidirectional microphone pickup pattern ensures the sound is captured clearly and everyone – be it an in-person audience, or remote students – can catch every word said by the presenter.
Just like the Cube, the Clip's Jacket color and logo can be customized to showcase your brand identity. This means your institution or event will always be instantly recognizable in any video recordings or photos.
Moreover, you can add the Dock Charger for the Clip mic to ensure that the mic is always ready for use: pick it up from the Dock, and you're ready to go. The Plus audio system is designed to be both intuitive and engaging to use, while also effortless to manage and maintain. Both wireless microphones – the Cube and the Clip – can be used simultaneously thanks to dual-channel audio functionality made possible by the brand-new Hub receiver.
Hub receiver
Hub is a receiver and audio mixer in one that supports 2 wireless microphone channels.
As with other products, simplicity is the name of the game. Hub is a plug-and-play solution that anyone can start using in moments, without involving the AV team. Plug it into your computer, select "Catchbox" as your audio input and your microphones are ready to be used.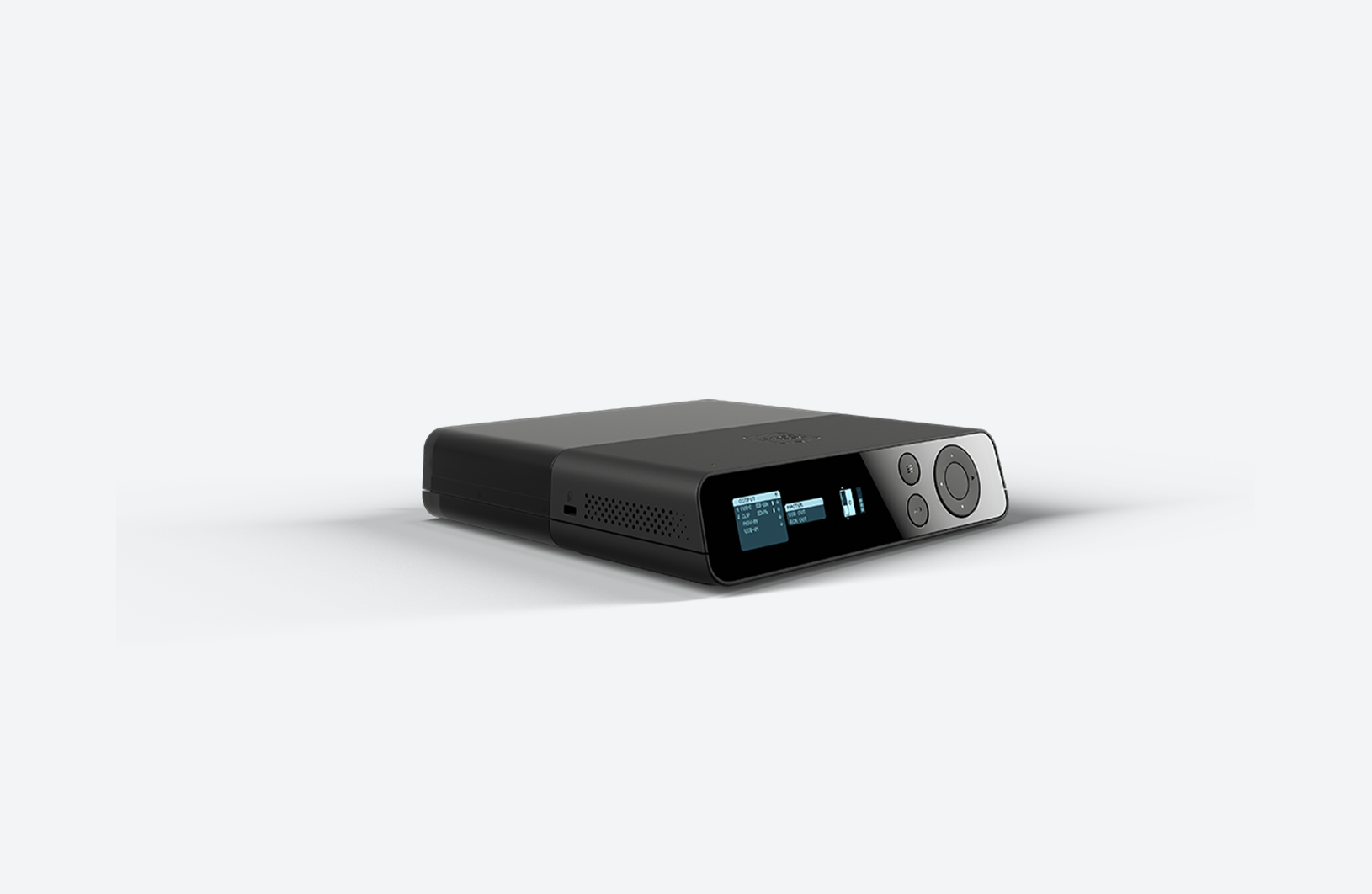 Dual-channel support is ideal for classrooms and conferences because you can easily connect two microphones – one for the presenter (Clip), one for the audience (Cube). Or two of the same kind, if that's what your setup requires.
The Hub's audio processing will make for an improved hybrid experience. The devices operate on the DECT frequency and have a range of up to 100m/330ft. With AUX-in and USB-in channels, separate audio outputs for each mic, an easy UI, and stealth mode – it's the magic box that makes everything happen. It also sports a Kensington lock for security.
Moreover, a Mounting Kit is now available for the Hub. It lets you connect it to the wall or ceiling, behind a TV or under a desk with screws or adhesive tape. Perfect for permanent installations such as classrooms, where you're looking to avoid cluttering your surfaces. Additionally, the Mounting Kit serves as a cable manager to keep your cables neat and secure.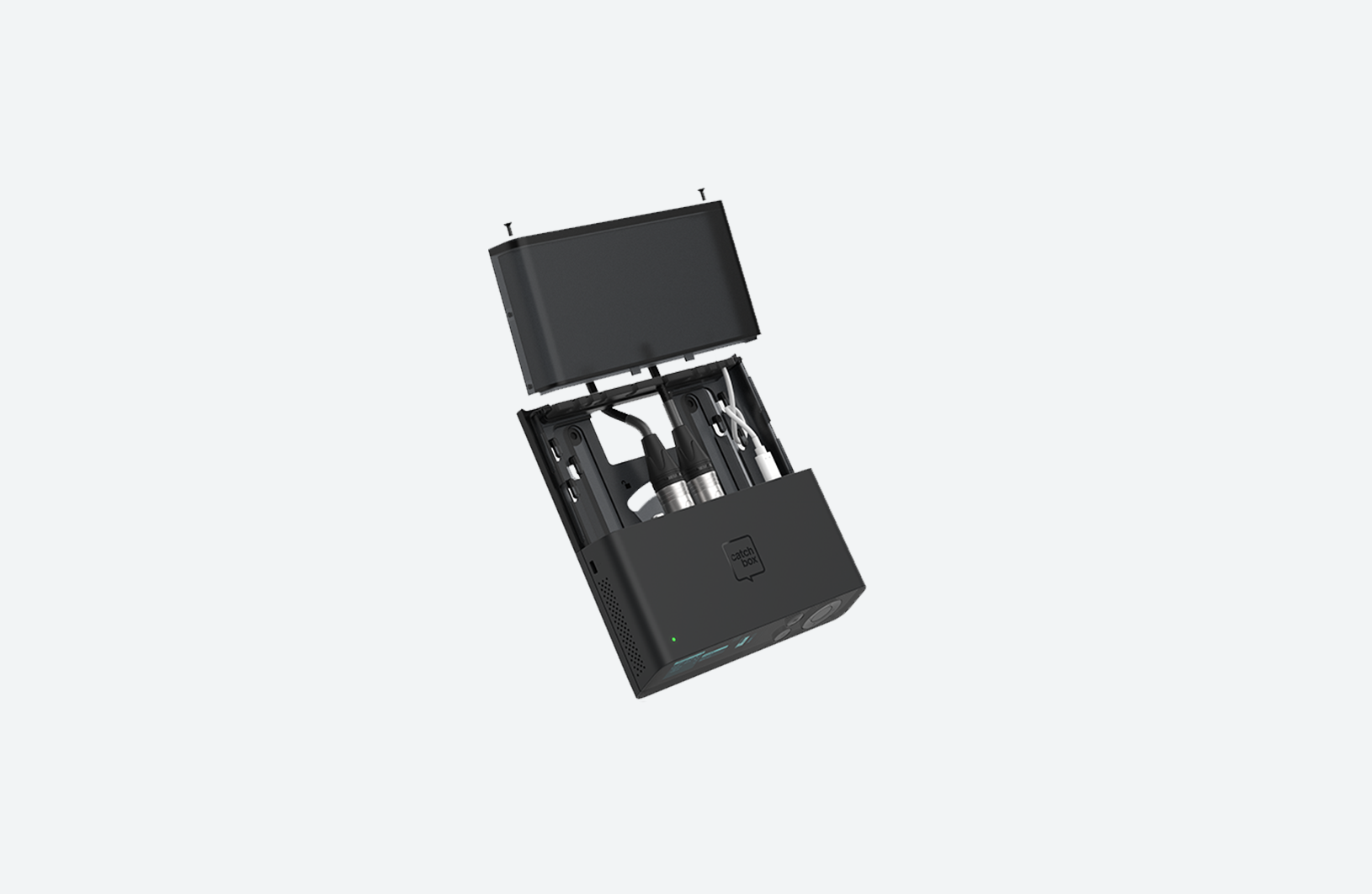 Catchbox Plus Pro: when it's more than just a microphone
Plus Pro is an installation-focused configuration of the Catchbox Plus, sporting dedicated features for large installations including Dante™, PoE (Power-over-Ethernet), and API remote monitoring capabilities. Contact our team to learn more about Plus Pro
The Plus Pro is a network module for the Hub that offers a built-in Dante™ adapter for audio-over-IP functionality. This eliminates the need for physical and messy audio cables. And it means Catchbox Plus will slot right into your Dante™ ecosystem.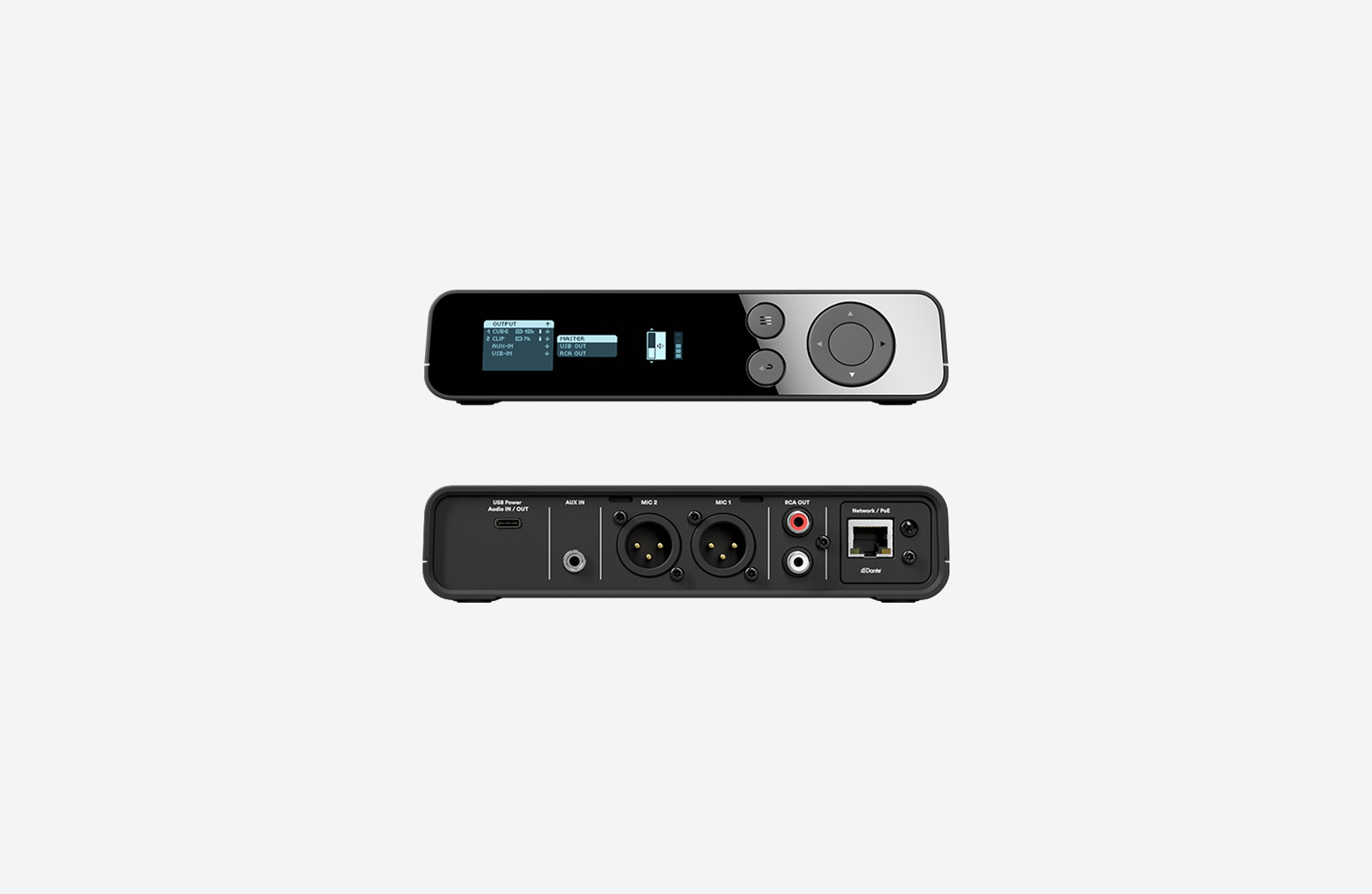 Getting rid of not just audio cables, but power cables, too, the Hub also supports PoE ensuring it works anywhere with an ethernet cable. This way, you don't have to worry about installing new power outlets, nor taking up existing ones.
Additionally, the Plus Pro will make it possible to connect and monitor your Catchbox devices by integrating them into your existing setup via API. Now everything can be managed remotely!
These were among the most requested features by universities and event organizers using large fleets of Catchbox Plus systems deployed across multiple lecture halls and stages.
Here to support you on a new journey
We've updated our Help Center with answers, anticipating your questions about the new Catchbox Plus. But if anything's left unanswered or if you need any assistance, our support team is standing by ready to help out at a moment's notice.
Those of you familiar with our previous products will find the new system just as easy and intuitive to use. While a lot has changed, much of the core technology has stayed the same. After all, why fix what ain't broken?
Coming soon – Dock Charger and Mounting Bracket for the Clip
Two more accessories for the Clip will be launching soon:
Dock Charger – a charging station for the Clip mic for easy maintenance. You can daisy chain up to 4 docks from a single power supply.
Dock Bracket – a sleek, elevated mount for the Dock charger that you can fix on any vertical or horizontal surface.
And there are more exciting things coming your way, but those we'll keep under wraps for now. Stay tuned!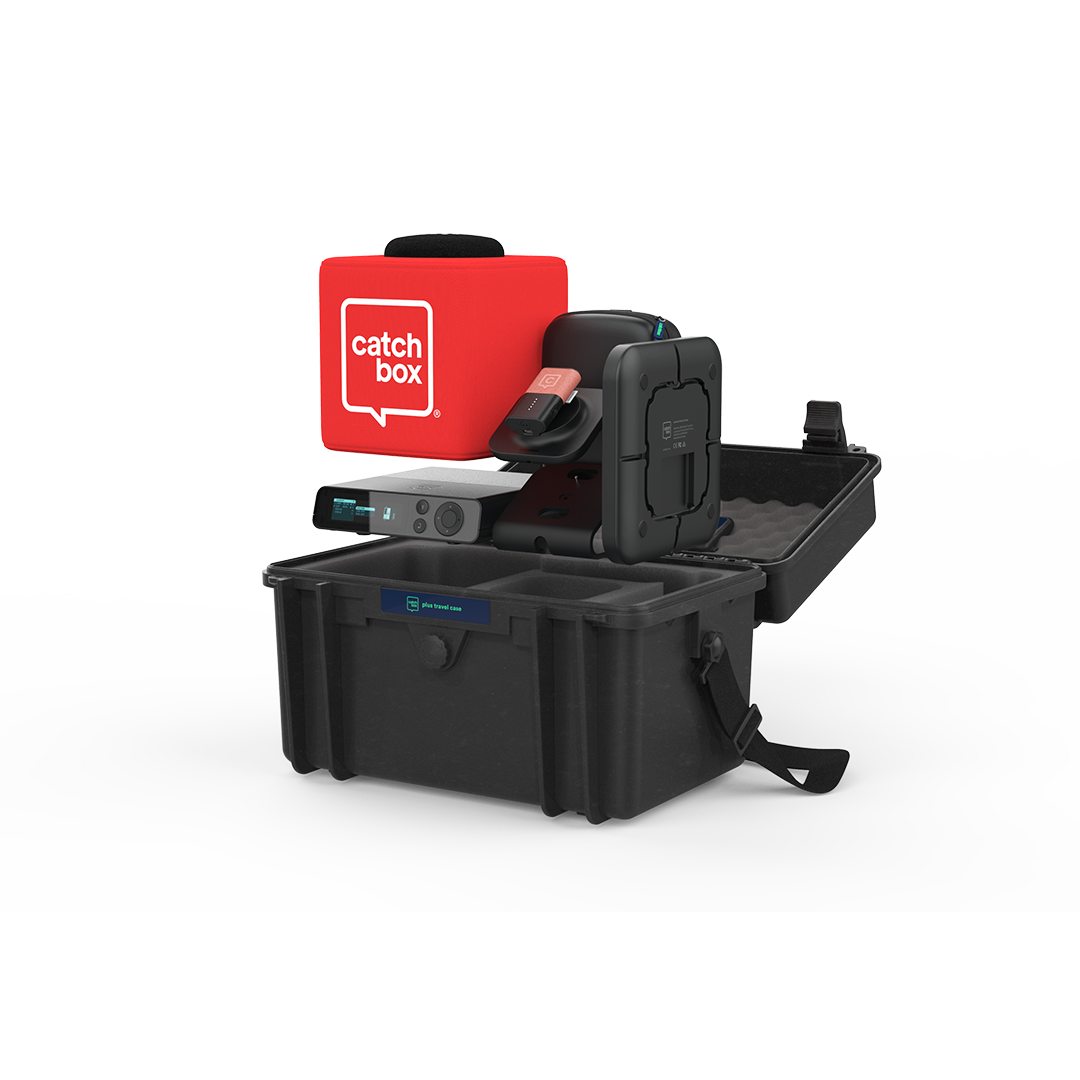 Explore the Catchbox Plus
Get in touch to learn more
We're here to support you! Get in touch with our team to find the best solution for your space.