Kyrene Traditional Academy case study
"Now, I go to work not dreading my job because of not being able to hear my students."
Many schools all over the world are struggling with the same issues – constantly adapting to ever-changing epidemiological requirements, students being in and out of class at the first signs of any COVID-19 symptoms, and kids falling behind on their education due to the perpetual chaos.
For Michelle, a first-grade teacher at Kyrene Traditional Academy in Arizona, things became even more challenging when she lost her hearing in the early stages of the pandemic. She was able to partially restore her hearing with a cochlear implant, enabling her to hear others when they speak loudly and clearly.
Watch the full video case study:
Unfortunately, clear enunciation isn't something first-graders are known for. More than that, in Michelle's class, you'll find kids from all sorts of different backgrounds, some of whom have explicit speech difficulties in the shape of stuttering, articulation issues, and a selective mute. Add face masks into the mix and hearing what the children are saying becomes a challenge not only for Michelle but even for her colleagues with perfect hearing.
To help Michelle communicate with her students, the district equipped her classroom with a microphone on a stand and an amp. While such a solution made it possible to hear the first-graders, the students had to keep getting up and walking back and forth to the mic, disrupting the flow and speed of the lesson. Plus, the amp wasn't very loud, so Michelle had to sit near it, limiting her ability to move about the classroom freely.
In an effort to improve the situation, Michelle turned to her peers for ideas and was recommended to give Catchbox a try.
Then came November and Lebanon High reopened to in-person school for those who were able to attend. A majority of students opted to return to in-class learning and the school made the necessary adjustments to facilitate remote learning for those who chose to stay at home.
Unlike her peers, Emma didn't have much of a choice. Masks were mandatory on school premises which made lip-reading impossible. Accordingly, she had to stay at home, as the Google Meet captions were the only way she could participate in class.
With most students returning to the classroom, the remote learning dynamic shifted dramatically.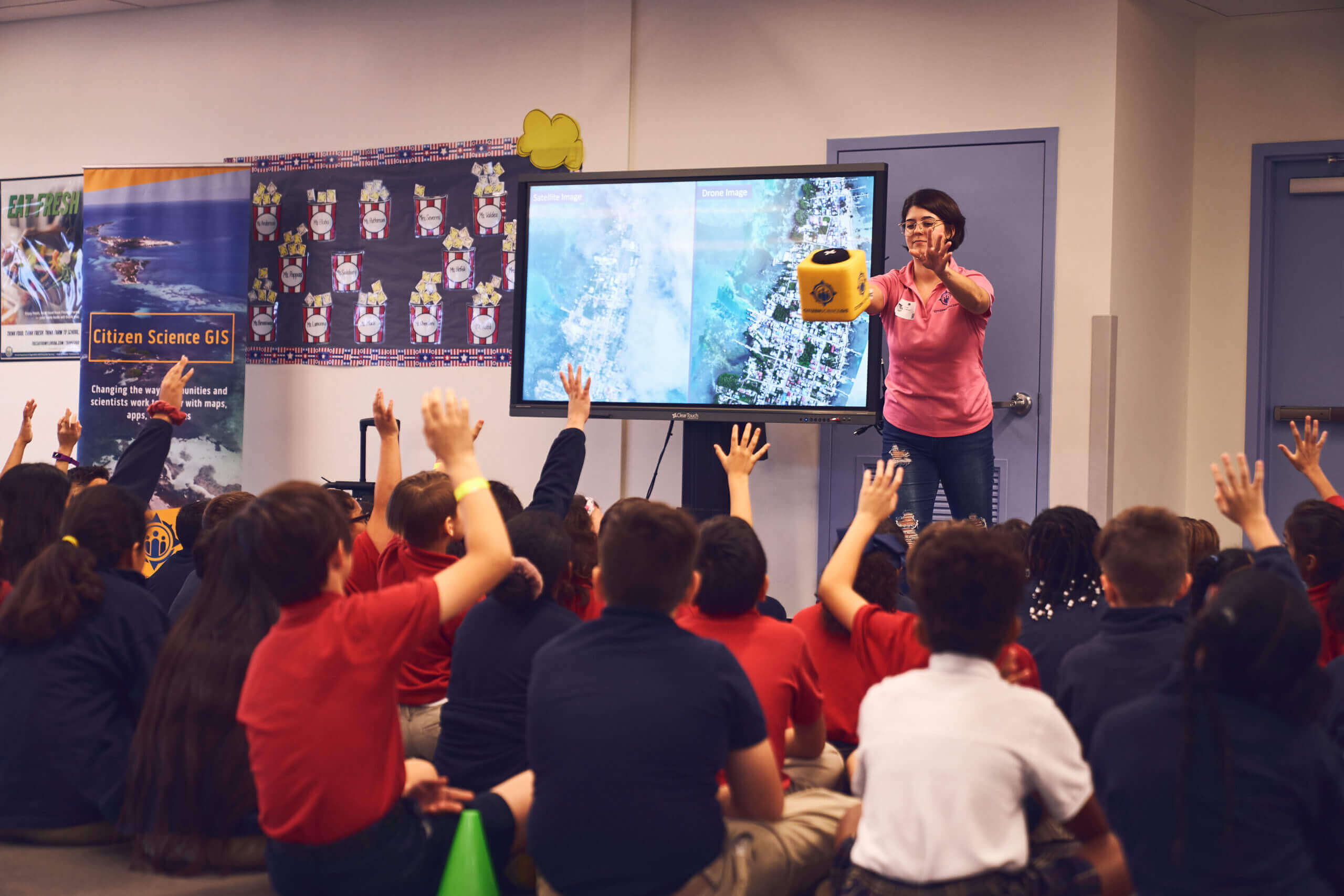 "It was a gamechanger"
The soft, cube-shaped wireless microphone turned out to be the perfect audio solution for a class of first-graders.
The 6 and 7-year-olds would pass or throw the Catchbox around whenever someone wanted to say something or had a question to answer, which allowed them to stay seated and gamify classroom Q&A. Plus, with Catchbox connecting to the classroom's soundbar, Michelle was now able to hear her students clearly even with masks on.
The Catchbox receiver plugs into the AudioLink streaming accessory and that sends the pickup from the Catchbox straight to the cochlear implant. In other words, whatever the students say into the Catchbox gets beamed directly into Michelle's ear.
From day 1, the students fell in love with the soft microphone and it has helped them open up – the kids are actively volunteering to answer questions and they're also more proactive in engaging with the lessons. Even the student who is selectively mute is now more likely to talk and participate.
"All of my kids are participating more actively because of the Catchbox. Some kids will even lower their voice on purpose so I can't hear them because they want to get their hands on it. It's been great for boosting my students' communication and wanting to talk," Michelle explains.
This wouldn't be possible without Catchbox's spongy casing. For the students, the playful design paired with a material that's soft to the touch gives the microphone an irresistible, game-like quality. For Michelle, however, it also gives peace of mind.
"At first, it was hard because first-graders aren't very good at catching things. But, it's just the right size and now we're getting better at catching it and it's not falling to the floor as much. But then that's the other thing I love about it – if it falls to the floor, I'm not panicking that it will break. I feel secure."
Implementing the Catchbox has been a no-brainer. In addition to providing Michelle with the necessary tools for her to be able to work, it has also helped her tackle a teacher's greatest challenges – driving classroom participation, particularly among those who are less predisposed to sharing, thus, making Catchbox an ideal tool for primary classes.
"The Catchbox is here to stay"
Looking to the future, Michelle, just like most educators, is worried that epidemiological volatility will continue to have negative effects on the teaching process and the students in particular. Having students out of the classroom significantly impacts the learning process and Michelle hopes it won't come to that.
However, if it does and some level of hybrid learning is introduced, then Michelle is confident that audio won't be a problem, thanks to the Catchbox, which will serve as the perfect solution for connecting in-person and remote students. Additionally, all Catchboxes now come with an anti-microbial coating that makes the microphone more hygienic and helps eliminate viruses.
Pandemic or not, Michelle plans to continue using the Catchbox both as assistive technology and as an engagement tool.
"Now, I go to work not dreading my job because of not being able to hear my students."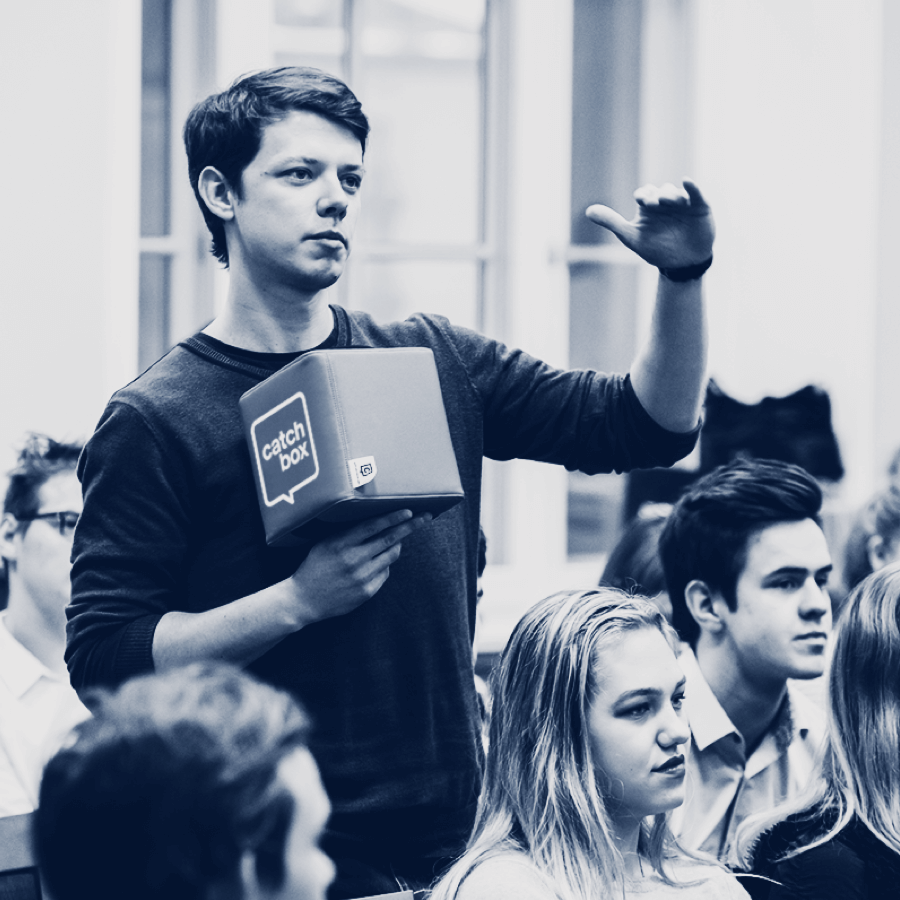 Kyrene case study
Watch the video
See how Catchbox helped to transform Michelle's classroom and helped Kyrene Traditional academy to create an inclusive experience for all.