5 ways to engage students in a hybrid classroom
Learn how educators can ensure an engaging hybrid classroom environment and break down barriers between in-class and remote students.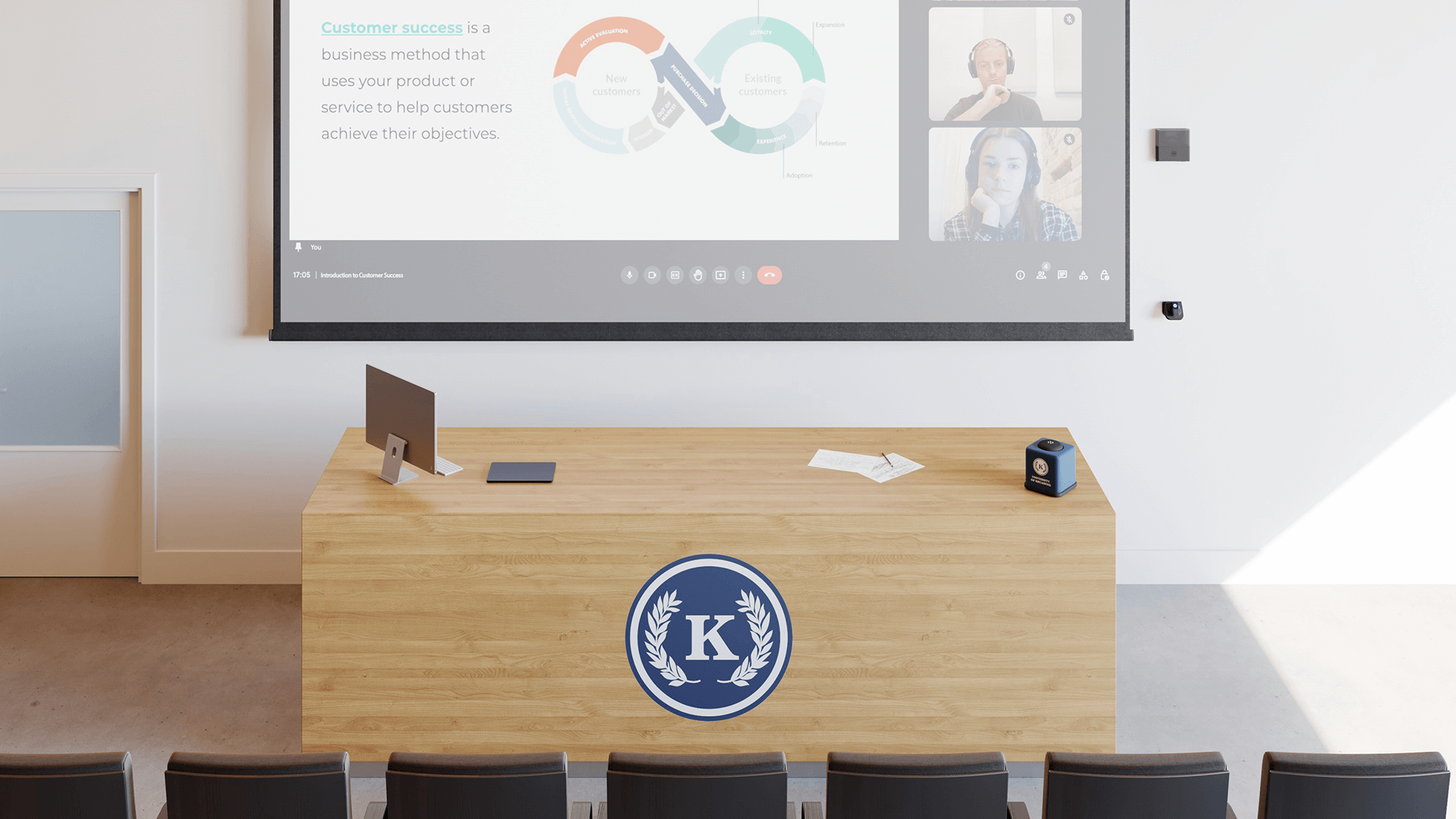 Edited on: August 2, 2023
The hybrid classroom model is growing in popularity as educational institutions seek sustainable solutions to the pandemic-induced turmoil that is remote learning.
However, with some students on-site and others joining remotely through video-conferencing platforms such as Zoom or Microsoft Teams, educators face new challenges in ensuring an adequate learning environment for students and keeping them engaged in the lessons.
Early on, coming to grips with a new environment is extra stress for everyone involved. From implementing a proper technical setup for educators to understanding hybrid classroom etiquette for students - numerous elements combine to form a learning space that's prone to distractions, impeded communication, and estranged students.
That said, by taking charge and not only proactively resolving the challenges listed above, but by also facilitating peer-to-peer interactions and leveraging the technology at hand, educators can foster an engaging environment that can be on par with traditional classes.
Here are 5 ways to engage students in a hybrid classroom setup.
Provide the best audiovisual experience possible
A solid technical setup is a must-have. Grainy video and distorted audio is the quickest way to turn off even the most active students and getting stuck in a perpetual loop of repeating oneself will alienate the in-class audience.
Similarly, general technical issues cost both time and student attention. While tech issues are bound to pop-up even for the best prepared, keeping them minimal is key for ensuring an uninterrupted lesson, where the student can fully focus on the material at hand.
High-quality audio is of paramount importance for both teacher-to-student as well as student-to-student interaction. Achieving good audio requires the teacher to have a microphone for home-bound students to hear what's going on in class. However, then passing the same mic around for student-to-student interaction is not convenient and, instead, a strategically placed class microphone is recommended.
The Catchbox Plus wireless microphone system, consisting of a hands-free presenter Clip mic and an audience mic with 360° pickup is an ideal solution already used by classrooms worldwide to make sure everyone is heard while keeping their distance.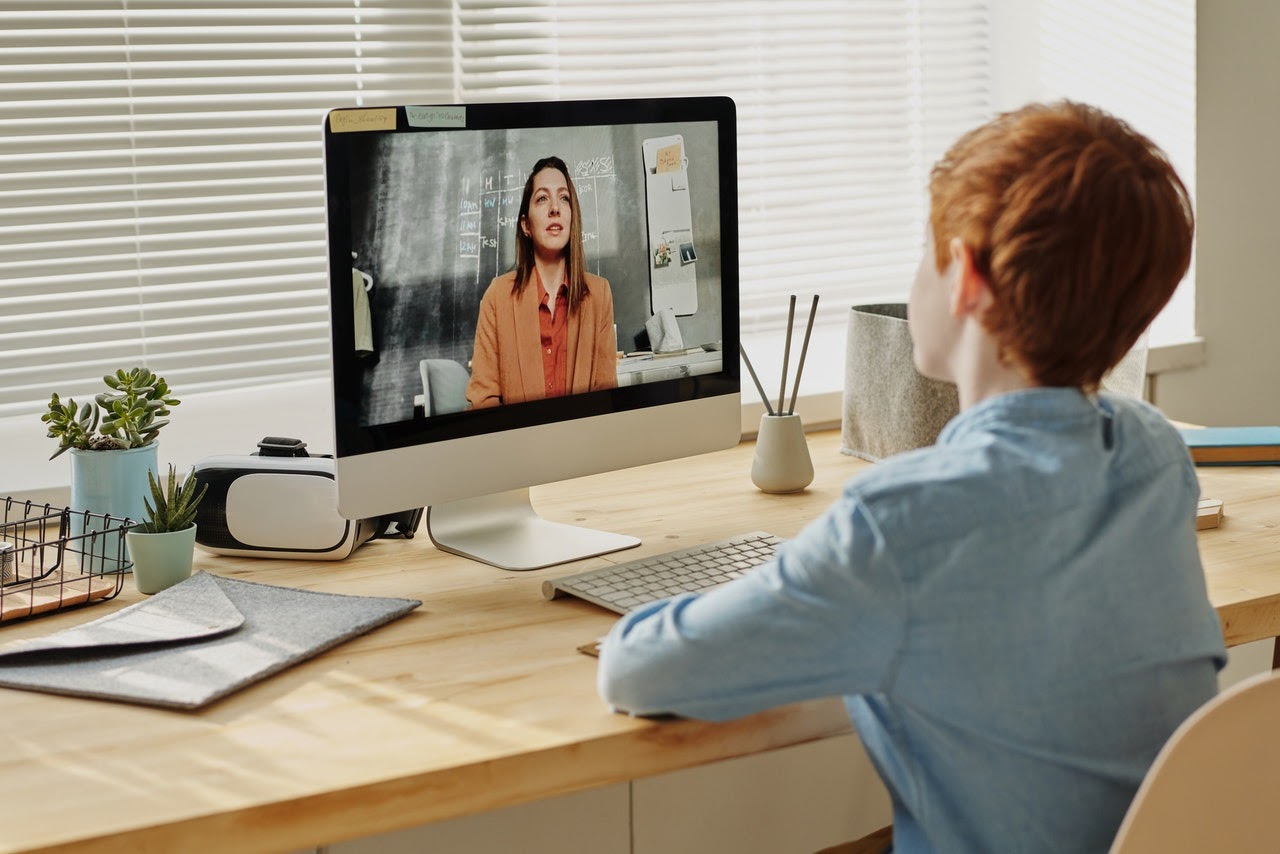 Set clear rules and be transparent in communication
Establishing clear hybrid classroom guidelines and how-tos can boost student engagement in hybrid classrooms by resolving any anxieties surrounding this learning model.
It's important to explain to students how to engage in conversation, how to ask questions, how to act if they encounter a problem, what to do if they're late, how to deal with connectivity issues, how to get in touch with the teacher if they need to have a private conversation, what to do if there is an emergency. Access to this information can help dissipate stress among students, especially at an early stage of hybrid classroom adoption.
Plus, having clear "rules of engagement" helps the teacher retain order, minimize disruptions, and make sure every student is heard.
Assign group work
A major engagement challenge in hybrid classrooms is insufficient peer-to-peer communication not only in-class, but outside of it as well, and can result in feelings of isolation and loneliness in students. Not seeing friends and not making new ones removes an essential school experience that's essential for personal development and it's important to deal with this as part of your hybrid teaching strategy.
Group work can help and, in part, alleviate such issues. Ideally, depending on the availability of devices, in-class students should be paired up with remote ones, thus breaking down the barrier between the two and making the hybrid classroom setup significantly more engaging.
Features such as Zoom Breakout rooms which allow splitting the class into separate groups can facilitate smooth transition from the main call to group calls without the teacher having to worry about complex technical setups.
Use polls for learning and feedback
Quick polls consisting of one or two questions are gaining popularity for gauging the engagement of remote classes. Some educators with larger classes use them spontaneously to ensure students are participating in the class and to combat academic dishonesty.
On one hand, as a quick-fire test, this is a fruitful method for forcing engagement in hybrid classrooms and ensuring students pay attention throughout the lesson. On the other, it can also be an invaluable immediate feedback tool. For instance, the teacher can explore the answers to see how students are faring with a particular topic. If a large portion answers incorrectly, there's clearly a lack of understanding, and revisiting a particular subject might be beneficial for the whole class, or doing so privately with individual students can ensure everyone's on the same page.
Students are often shy to admit that they failed to understand something and quick polls are a great way to ensure they do. This, in turn, helps boost engagement, especially when future lessons hang on understanding core material. With easy-to-use polling tools like Slido, polling is fun for the students, easy to implement, and will quickly become a core element of your hybrid teaching strategy.
Embrace the technology at hand
Hybrid classrooms can be exciting once the initial resistance wears off, particularly for primary school students. When combining, the futuristic nature of blended learning and the continued merging of education and technology, and fun-to-use wireless microphone, some teachers report higher levels of engagement and enthusiasm among their students.
With young people spending more and more time on digital devices, a hybrid classroom can prove to be a familiar environment that students are eager to use. Games can be played with the whole class, the internet can be used for small research projects, some communication can take place in text form - bringing these activities inside the classroom can help bridge the gap between the 'real world' and education, as students apply their know-how and infatuation with technology to the classroom environment.
Additionally, in passively helping further develop the digital skills of students, hybrid learning can feel like a much more valuable way of assimilating information than traditional class models.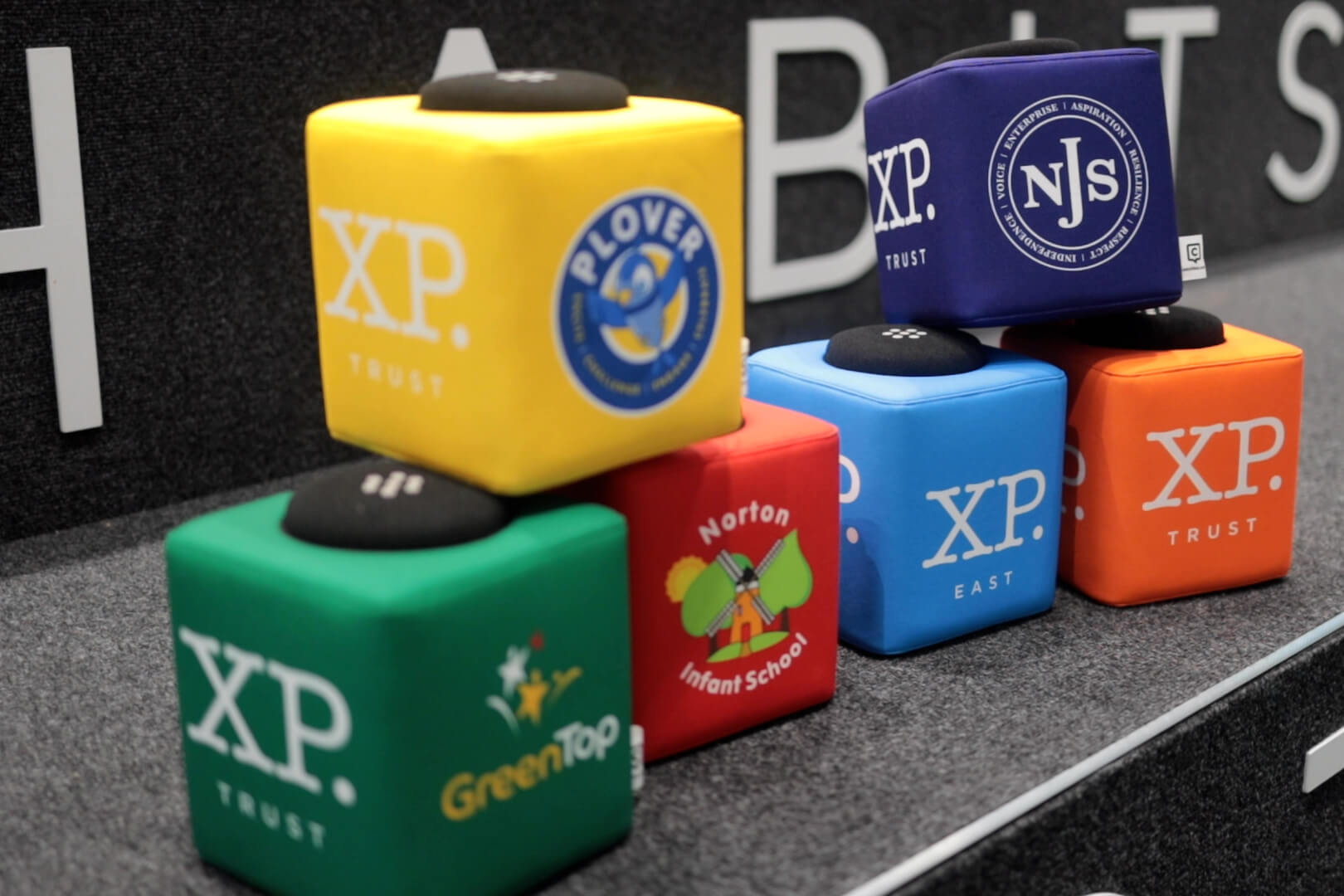 Conclusion
Engaging students in a hybrid classroom setting is not without its fair share of challenges. The technical setup may seem intimidating at first, but, once that's out of the way, this learning model allows educators to experiment with a variety of teaching methods and hybrid teaching strategies engaging students in exciting ways that involve everyone equally.
Good quality video is a must. Good audio - doubly so. Wireless microphone systems, such as Catchbox Plus, are essential for ensuring just that and allow all students to engage and participate in the class, as well as provide teachers with freedom of movement with a hands-free presenter Clip mic.
Better yet, Catchbox Plus is a plug-and-play solution, meaning there's no complex technical setup - simply plug it into the computer's USB socket. Unfamiliar teaching environments can be just as stressful for the teachers, as for the students, so not having to worry about audio setup is a weight off everyone's shoulders.
Recommended
Find out more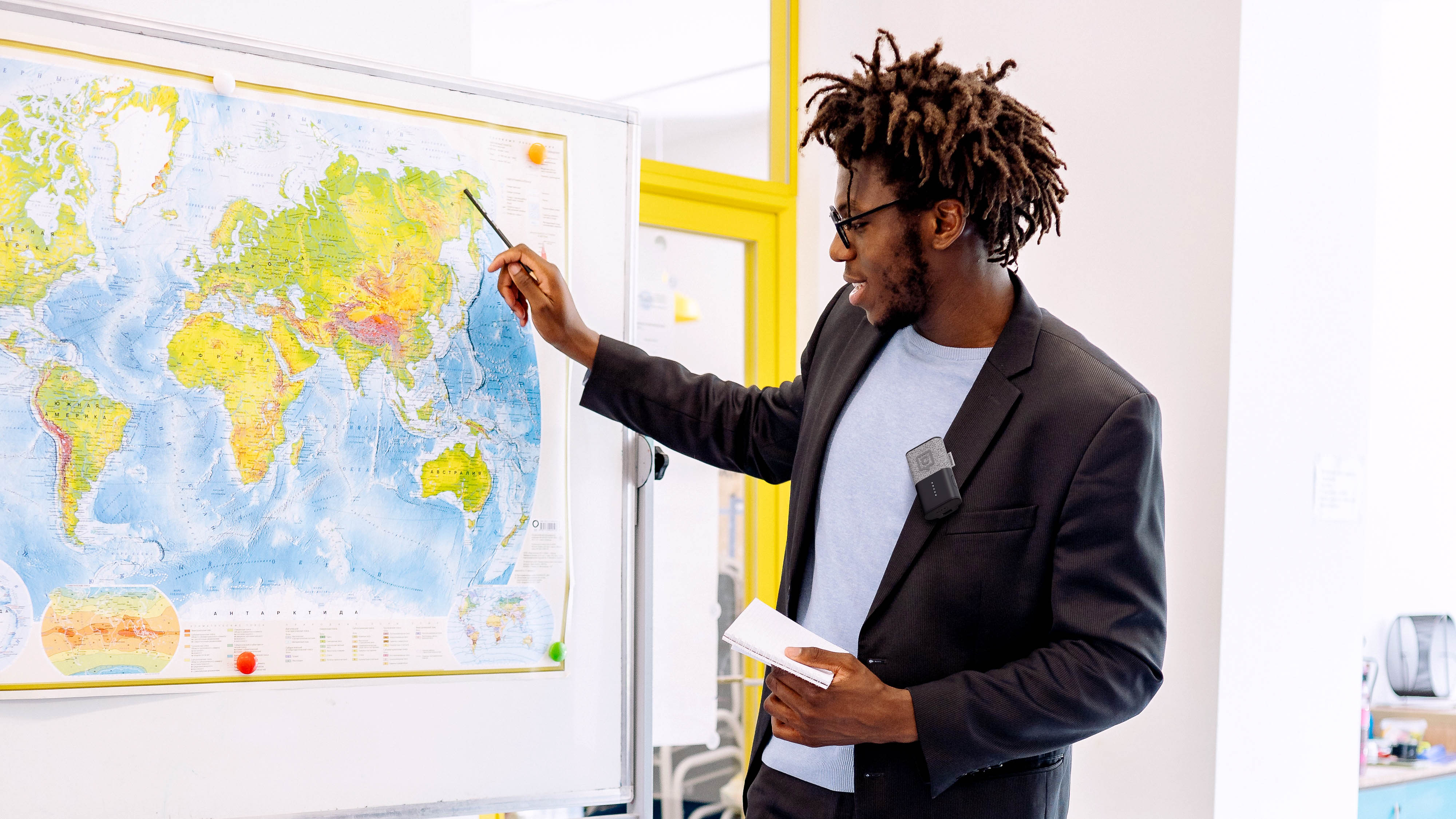 Presenter mic in your hybrid classroom
When opting for a hybrid learning model, a top-class teacher microphone is crucial to your setup success. Check out these 5 reasons why presenter Clip mic is the ideal wireless mic for hybrid classes.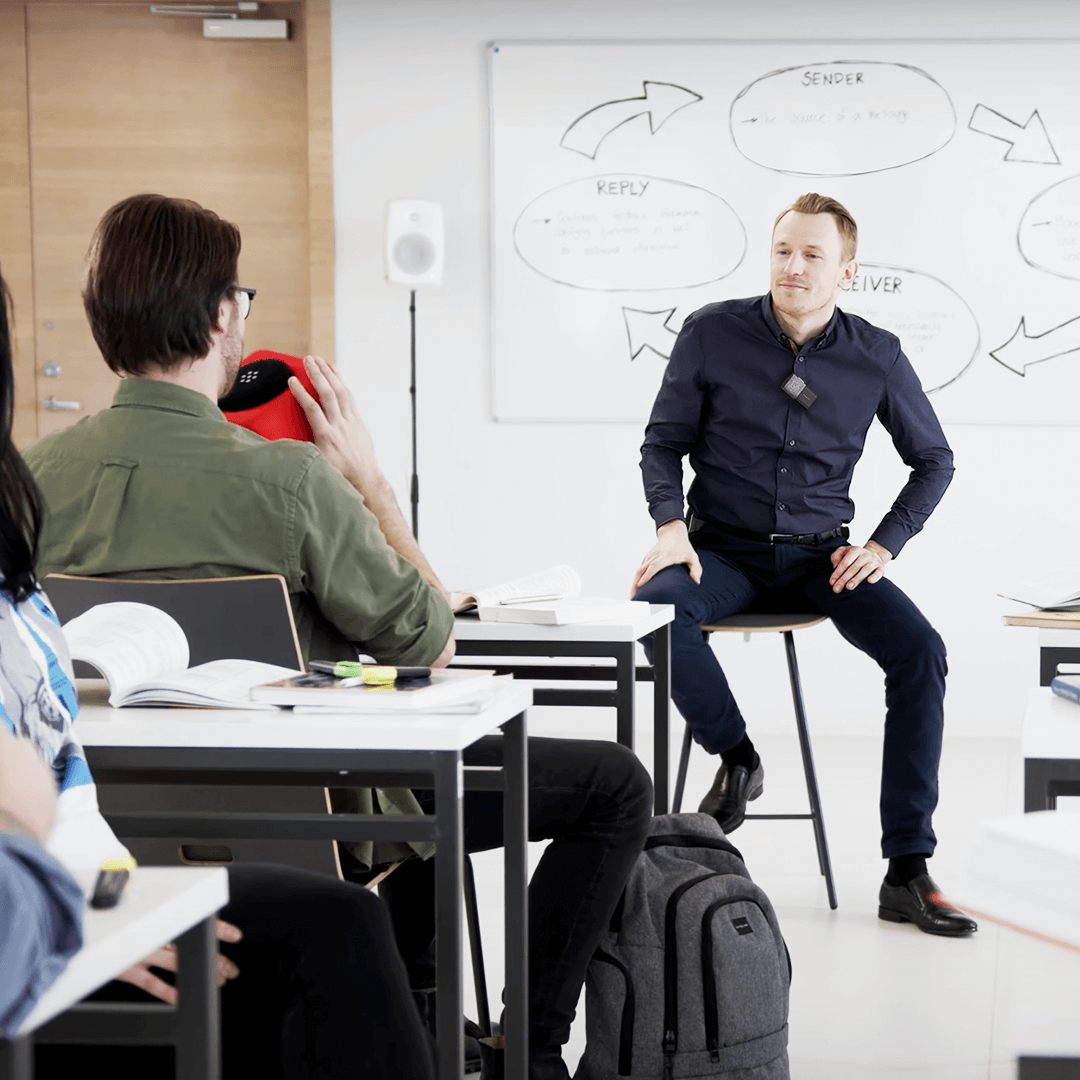 Catchbox for education
Create more immersive learning experiences with Catchbox microphones. Ensure both teachers and students can be heard in the classroom and encourage participation across a range of educational settings.