5 reasons for using presenter mic in your hybrid classroom setup
When opting for a hybrid learning model, a top-class teacher microphone is crucial to your setup success. Check out these 5 reasons why presenter Clip mic is the ideal wireless mic for hybrid classes.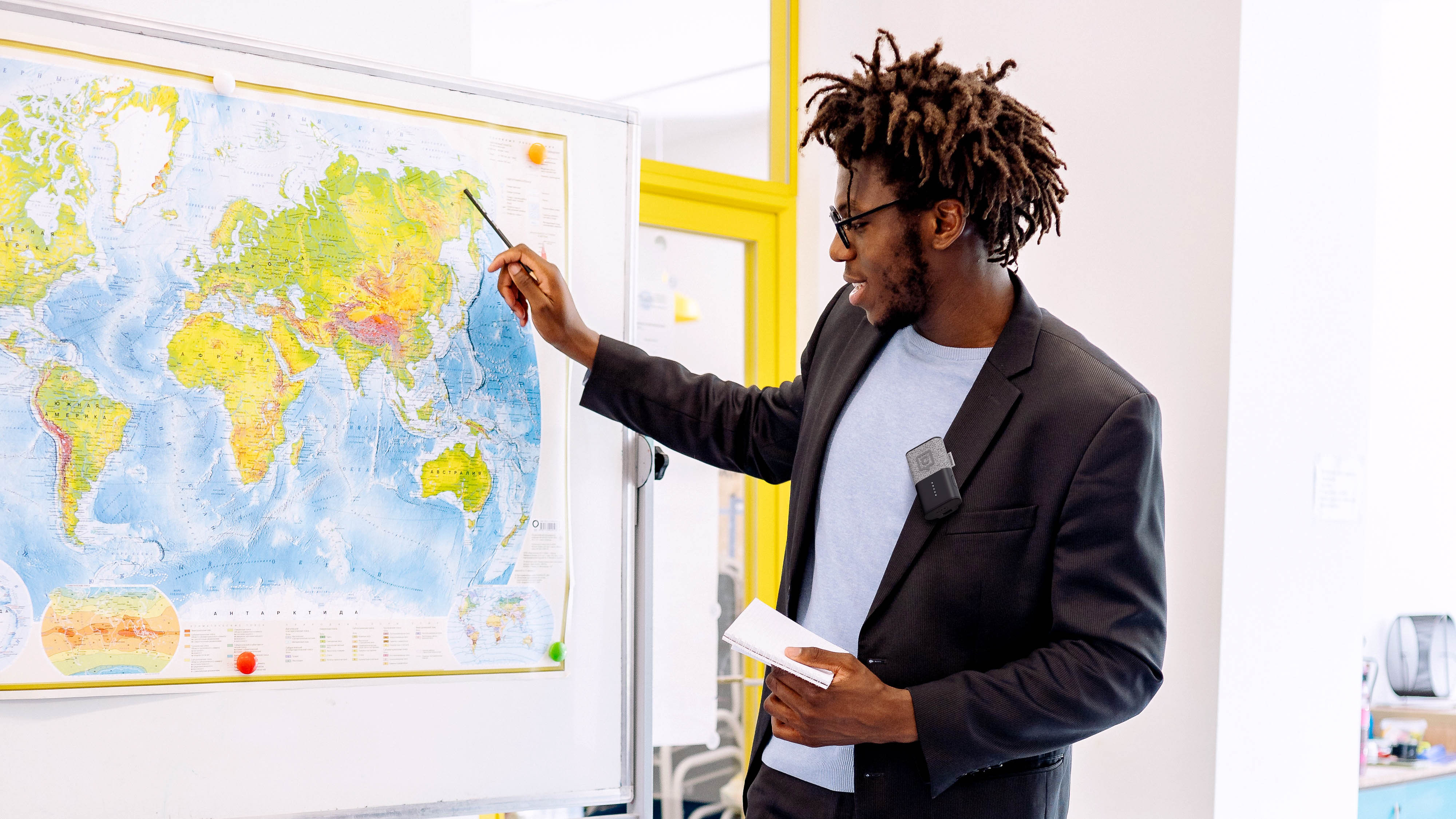 Edited on: April 17, 2023
As schools and universities start the academic year, they face unprecedented challenges and changes to the traditional way of teaching.
Many educational institutions are planning to implement a hybrid classroom model. The hybrid teaching or hybrid learning model offers schools the ability to move between in-person and online instruction as and when the circumstances require it.
This way, students can enjoy the benefits of in-person teaching, whilst institutions are able to reduce the number of people on campus at any one time.
Why a top-class teacher microphone is the key to success in the hybrid classroom
One crucial factor is often overlooked when it comes to video-teaching and hybrid classrooms: As soon as a single participant joins remotely, you need at least one classroom microphone.
Proper audio can make-or-break a hybrid classroom setup. Students who join remotely need to be able to hear their teacher at all times, without interruptions or unwanted noise.
For this reason, budget solutions seldom cut it when it comes to teacher microphones. But that doesn't you mean you need to break the bank on an expensive AV overhaul for your classroom.
Whilst Catchbox is known for the Cube mic, the presenter Clip mic is a microphone with teacher-friendly functionality and powerful tech specs.
Check out these 5 reasons why the Catchbox presenter Clip mic is the ideal teacher microphone in a hybrid classroom setup.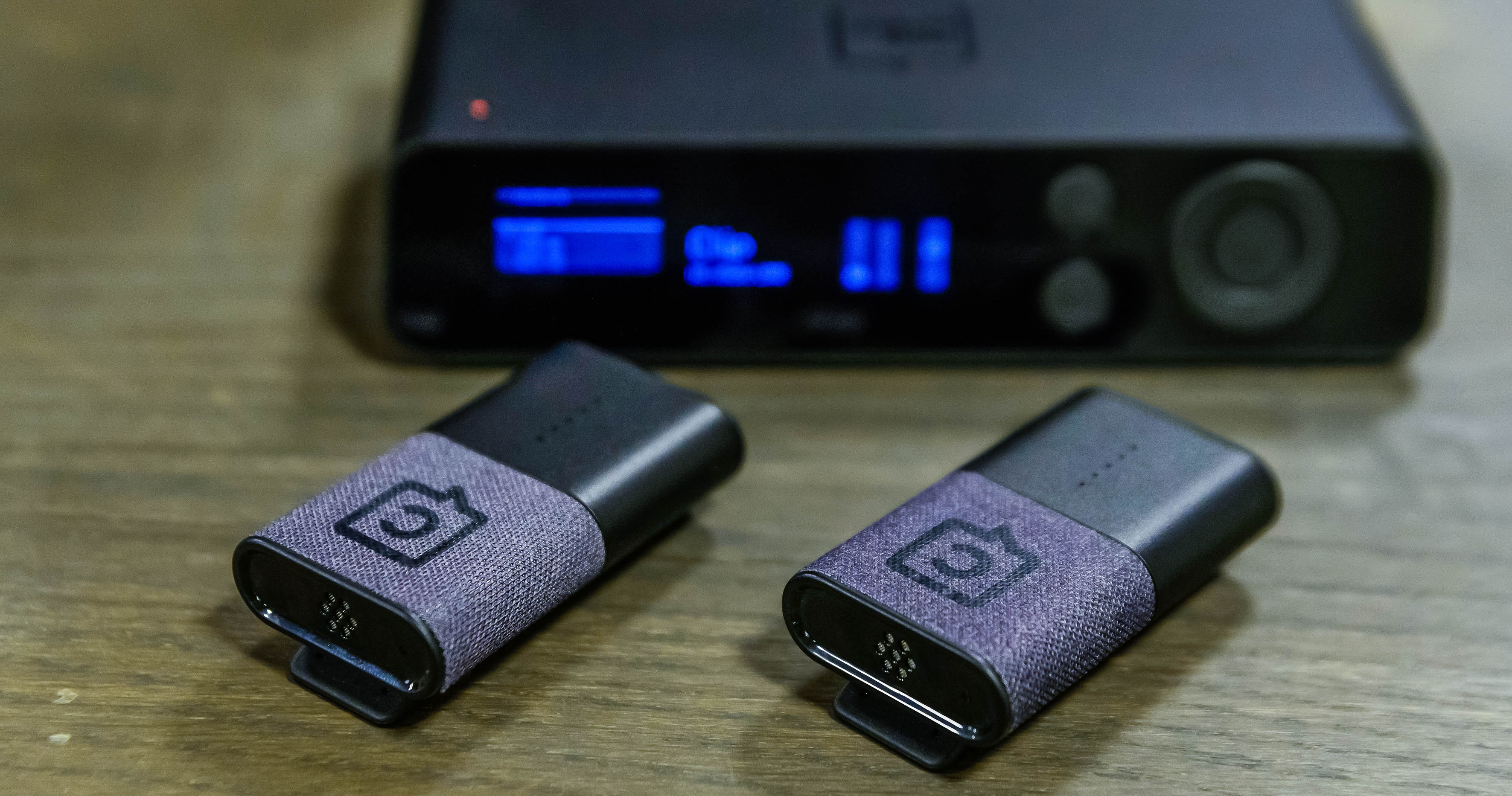 It's flexible and hands-free
Sharing enthusiasm is one of the best ways to engage students, even through a screen. Teachers need to be able to express themselves to engage their students, but that's not always easy when you're giving a lecture from your laptop.
The presenter Clip mic can be worn on a lanyard or clipped to clothing. This allows teachers to present their ideas hands-free. The mic can be adjusted or quickly switched on and off directly, giving the presenter some much needed flexibility during class time.
It's versatile and works with everything
It's better for everyone - teachers, IT managers and students - if the classroom tech just works. The Clip presenter mic's receiver Hub features USB connectivity, so it can be plugged into almost any device and used right away.
For teachers, this means opening up Zoom, Microsoft Teams or any other VC platform, selecting the presenter Clip mic from the dropdown and starting the class.
For IT or AV specialists, this is peace of mind that hybrid classes can run without any holdups. If your classroom requires a more managed approach, the receiver also works with XLR, unbalanced 6.3mm / 1/4in. For more detailed tech specs, check out the Plus system manual.
Add the audience mic for engaging class discussions
The presenter mic works as part of the Catchbox Plus system, which means it uses license-free DECT and has dual channel functionality.
The plus receiver can work with two mics simultaneously, which means you can combine the presenter mic as a teacher microphone with the Cube throwable mic being used to pick up contributions from in-person students.
One of the biggest issues teachers report with the hybrid classroom model is bridging the gap between students in the physical classroom and those joining remotely. The Cube throwable mic for audience can be passed between students in the class. 360 pickup ensures everyone in the room can be heard - even via video connection.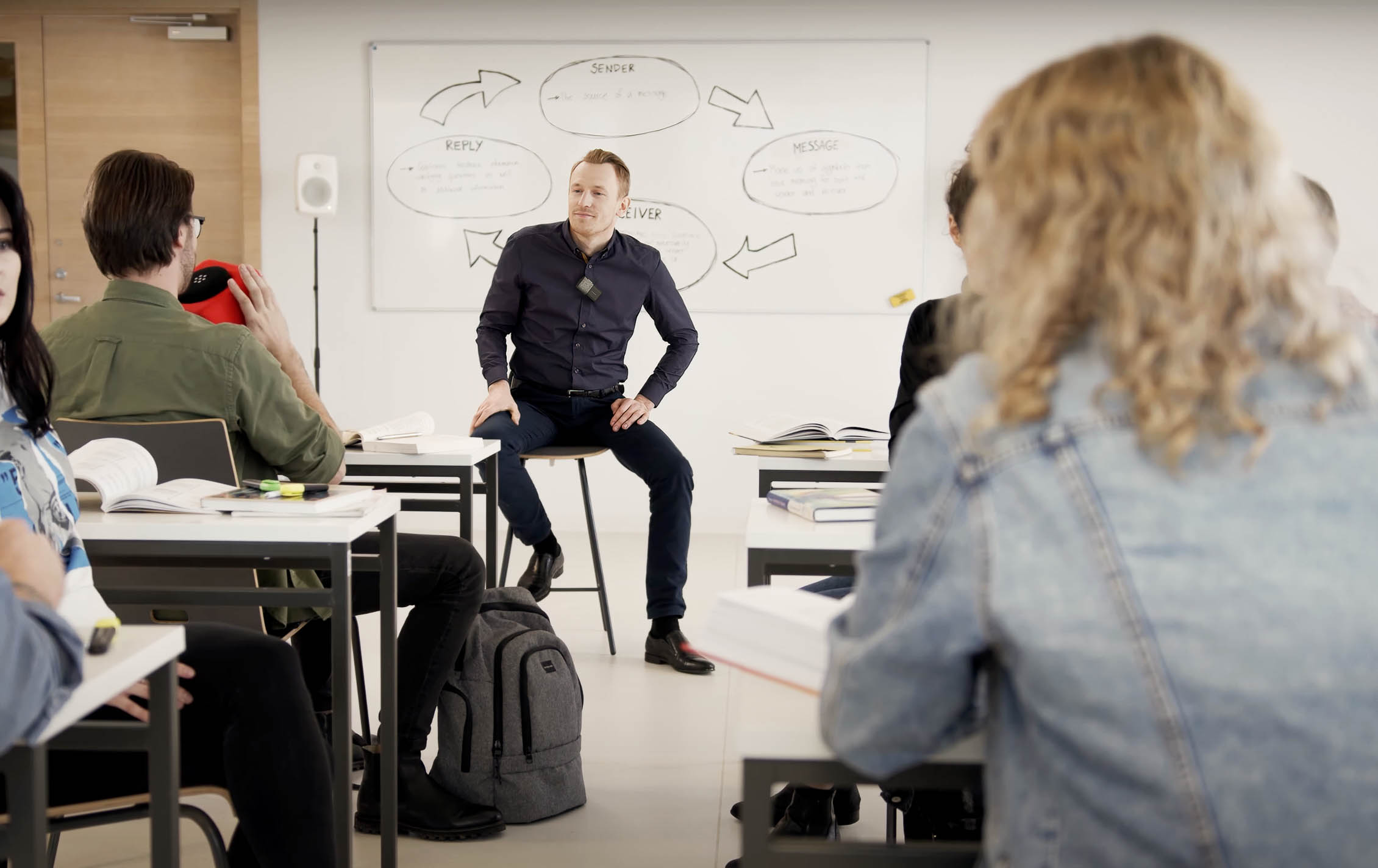 Effortlessly record your lectures and classes
Lecture capture will become a crucial part of the overall hybrid learning experience. Students love the option to watch again regardless of whether they took part in the original class in person or joined remotely the first time round.
The presenter mic can be used to record audio directly, removing the need for any additional equipment. DECT provides a much more reliable wireless connection than infrared or bluetooth, so students can listen again later with crystal clear audio and no unwanted interruptions.
Microphones for hybrid learning
The solution for your classroom
See how Catchbox Plus could transform your classroom upcoming academic year.